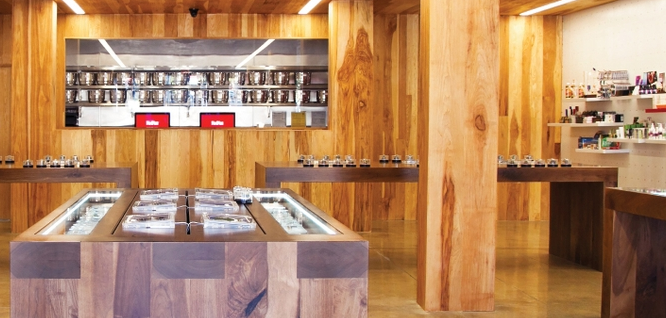 West Hollywood would be home to as many as 14 marijuana-related businesses generating at least $300,000 in tax revenue under a plan that came before the City Council last night.
The Council, responding to the statewide legalization of recreational marijuana sales beginning Jan. 1, 2018, has until that date to establish city regulations for such sales. Otherwise statewide regulations would govern the business locally. The city currently is home to four medical marijuana dispensaries, which by law can only dispense cannabis products to those 18 and older who have  doctor's prescription.  However, given that in Los Angeles such prescriptions are easy to obtain with a fee but without a doctor visit, recreational sales already are common.
The city's Community Development Department developed a plan for regulating marijuana businesses after a request by the City Council in May. In developing that plan, it met with representatives of cannabis-related business interests including the proprietors of four medical marijuana shops in West Hollywood.
The proposal it put before the City Council last night would do the following:
MEDICAL USE DISPENSARIES. Continue to allow medical use marijuana dispensaries (currently limited to four) in commercial zoning districts and on Sunset Boulevard except for the CN1 district, which includes neighborhood shops and apartment buildings with commercial space on the first floor. CN1 districts are located on Robertson Boulevard south of Melrose, on the east side of Fairfax Avenue south of Santa Monica Boulevard and on Melrose Avenue west of La Cienega Boulevard. Medical use dispensaries can sell marijuana to anyone 18 or older with a medical prescription.
ADULT-USE RETAIL. Permit sale of recreational marijuana to those 21 years old and over in commercial districts except for CN1 commercial zones.
CONSUMPTION AREAS. Allow consumption of marijuana in medical dispensaries and retail shops and in designated cannabis lounges from 6 a.m. to 2 a.m., the same hours of operation as restaurants and bars. Vaping, or inhaling cannabis fumes through an electronic device, would be banned in areas where consumption isn't otherwise legal. People would be able to smoke marijuana on private property, such as homes or apartments, where tobacco smoking is currently legal and where it can't be viewed publicly.
DELIVERY SERVICES. Allow local marijuana businesses to deliver directly to a consumer's home. Such businesses located in Los Angeles would have to apply for a special license for that. The delivery vehicles would have to be occupied by at least two people to reduce parking and safety issues.
CANNABIS CULTIVATION. Allow limited cultivation of marijuana plants indoors by medical dispensaries or retail shops. Shops would be able to sell customers marijuana plants. All outdoor commercial cultivation us banned.
CANNABIS MANUFACTURING. Allow medical dispensaries and retailers to infuse cannabis into other products such as candies and to extract THC (Tetrahydrocannabinol), the psychotropic element of cannabis, from marijuana plants so long as they only use non-volatile extraction methods.
CANNABIS LABS. Permit testing of THC levels in cannabis in commercial zones without a regulatory business license except for the CN1 district.
The Community Development plan would permit a maximum of six licenses for shops where marijuana would be sold and also consumed by adults and retain the city's current limit of four medical dispensaries. Someone with a retail/consumption license could operate both a shop and a cannabis lounge in the same location or one retail shop and a separate lounge elsewhere such as a hotel. Another four licenses would be available to shops that sell cannabis but don't permit on-site consumption.
The city would use a merit-based process to choose from among what is likely to be a large number of applicants for sales and consumption licenses. Some preference would be given to those currently operating medical marijuana dispensaries in WeHo, to any applicants with previous medical dispensary or recreational use retail experience. Other factors considered would be the quality of the cannabis products offered, the applicant's employee training and retail delivery systems, financial stability and whether the applicant currently is on the city's cannabis license waiting list.
The Council generally agreed with the Community Development Department's recommendations. But its members debated some parts of it. Councilmember John Duran, for example, questioned why marijuana shops wouldn't be allowed in the C1 commercial zones. He and Councilmember Lindsey Horvath agreed that it would be difficult to regulate marijuana delivery services, given that WeHo is surrounded by other cities. Duran also argued that existing medical dispensary owners should be given some preference in applications for recreational marijuana shops.   Horvath and Mayor John Heilman disagreed, but all council members did agree that current dispensary owners should be "grandfathered" in when the city finally agrees on limits to medical dispensaries.
Councilmember John D'Amico suggested not restricting the number of licenses available for onsite consumption.  Among the other questions raised during the discussion were whether the city should offer a separate license for cannabis lounges in hotels and whether consumption of cannabis in lounges could be monitored in some way to ensure people don't over consume. D'Amico, who recently toured cannabis facilities with Horvath in Denver, Colo., also argued that the city should consider permitting volatile extraction plants. D'Amico said the term "volatile" was inappropriate in that it suggested a risk of explosion that didn't exist in facilities in Denver.
The Community Development Department will come back to a future Council meeting with an ordinance incorporating some of the points raised last night.
In addition to the estimated $200,000 to $300,000 in sales tax revenue, West Hollywood could realize more revenue if it placed a successful cannabis gross receipts tax proposal on the March 2019 election ballot.