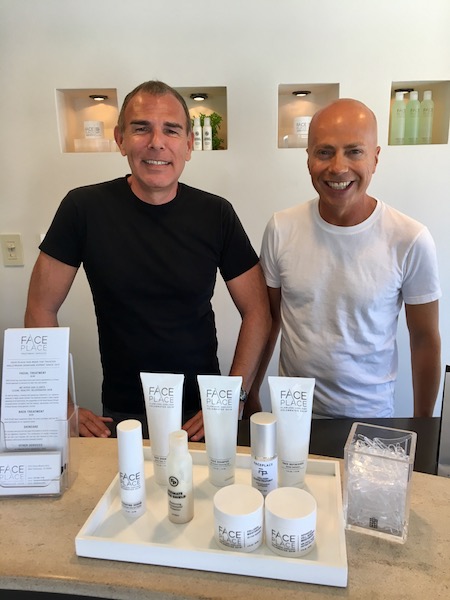 "It's a little tricky in the beard," aesthetician Tony Silla, 51, tells me. I'm lying on his treatment table in a dimly lit room at the Face Place, the WeHo salon he owns with his husband of 30 years, Paul Rogers.
Did I mention my legs rest upon a raised, queer-shaped cushion? It encourages blood flow to the head.
Why so tricky? Well, I'm having my face…vacuumed.
"I'm gonna use a little suction on your skin while I clean it," Silla says. "And it's gonna feel like this."
Whir! Buzz! Thwiiiirrrpp! It's sort of like being at the dentist – only it's your face.
The wand Silla calls his "little vacuum" resembles a miniature Hoover. I imagine Barbie putting her little plastic palms around it to suck schmutz from the rugs in her Dream Home.
"Sometimes," Silla says, "your skin gets a little pink from all the circulation. Then I'm gonna clean out the pores."

Two Canadians Walk Into a Salon
Silla and Rogers have been a couple for 30 years (married for four). They hail from Toronto, and before skin care became their passion, Silla was studying to become an elementary school teacher and Rogers enjoyed a successful career in finance.
All that changed when they met previous owner of the Face Place, Ernie Benson, on a vacation 22 years ago. The Canadians started getting facials when visiting L.A. and, as Silla explains it, they became "obsessed with (their) skin."
A couple years later, when Benson wanted to sell the business, the found an investor and immigrated to WeHo. Rogers assumed the running of the financials while Silla ditched education. "I went to beauty school to become an aesthetician, just so I could move here and do the Face Place treatment," he said.
He speaks of "the treatment" like it's a sacred calling. "You're gonna feel your skin right after…and you'll understand why."
All new clients complete a questionnaire listing out their product use and skin regimen. As for staff, Silla said it takes about two weeks for an aesthetician to learn how to do their technique. Of ten staff in WeHo, four are trained facialists and three are nurses (they do medical facials too).
Sauna For Your Face
The vacuuming occurs mid-facial – with the process taking about an hour. Earlier, Silla cleaned my skin with a "mild cleanser." It's part of the "extraction process," part of the "special technique we do," used to remove "blackheads and impurities."
Next: Silla puts warm towels on my face that are soaked in yucca. Like aloe vera, they promote rejuvenation and healing.
Now, what happens next truly is unique.
"Take a look at this." I see what reminds me of a cone-like collar, one my vet might insist I put around my dog's neck. Only it's not going around my neck, it's sitting on my face. The wide opening covers scalp-to-chin, but my eyes can stare at the ceiling through the narrow hole above me.
It's definitely a strange, but not alarming. Mostly it's relaxing. "If you get uncomfortable, you can lift it up when ever you want."
"Thank you," says a muffled voice vibrating out the top of the cone.
"It's like a little sauna for your face," Silla jokes and won't be there for even ten minutes. "Feel free to Instagram yourself," he says gliding away.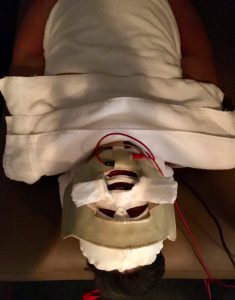 Special Guest Stars
Local journalists are not the only fortunate customers at this tranquil enclave. Celebrities benefit regularly. And Silla's not shy about dishing the dirt – as long as it gets nowhere near your face.
"You know who I love? Bette Midler. We just went to see her in "Hello Dolly" and her skin was…radiant." The Divine Miss M has been a customer for years.
Cher is a past client. Silla sighs, "Really good lady." She was "close" to her facialist, who passed away from HIV, and "she was really good to him. She even took care of his medical bills. Used to send a car out for him all the time to take him to Malibu."
Rogers says that when they first bought the salon and were new to L.A., "We were star struck." It was "a strange experience, initially," seeing celebrities walk in. Rogers' favorite? "Johnny Depp is probably one of the nicest people I've ever met."
Laura Dern ("She's so sweet.") and Matt Bomer ("He takes care of his skin.") are also regulars. I enjoyed it when Silla gushed: "[Stars] were coming in here and I am scrubbing Cindy Crawford's face. "It's, like, The Mole," he added for emphasis. "On the table."
Different Kind of Therapy
The cone is gone, the vacuuming complete.
"Lift your head." Silla places a second heated towel underneath me. "I'm gonna wrap you up in a vitamin and mineral solution."
Nutrients never sounded so inviting. "It has a lot of vitamin C, which has plenty of antioxidants. It actually stimulates collagen in the tissue. There's also a lot of zinc in the solution which is an anti-inflammatory, so it's gonna help heal the skin."
"I'm gonna spray you with a little collagen, give you a little extra hydration." "Don't breathe in the fumes. Just take a deep breath." Squirt, squirt, squirt. "Breathe out."
He then "builds" a "pack" on my now super clean face "using surgical cotton soaked in the solution." The goal is to "leave with all of these vitamins and minerals in your skin."
I begin to understand why this signature procedure costs $140. It feels worth it to me, though. Therapeutic. Relaxing. Healing. I suddenly recall how my psychotherapist charges $165 for her "50-minute hour." Maybe I should have been doing facials a whole lot sooner.
The hot towel is not just for relaxation. Electricity's involved. "It works with polarity. [There is a] positive pole that leads to the negative pole [that's] under your back right now."
"You call that galvanic something, right?" recalling something I read on their website.
"Galvanic current," he replies (sounding like the title of a new Tom Cruise film.) Now that I'm wrapped up in mineral-soaked towels, Silla uses the current to "actually draw [the] solution into the [skin] tissue."
"You're gonna start to feel this slight tingling sensation." I feel mildly apprehensive hearing this, then: "You might even have a little tinny taste in your mouth from all the minerals in the solution. Okay?"
Sure, no problem.
That was until: "So we're gonna put this thing on you for 15 minutes."
It's another mask! And this one's even more dramatic-looking. "It's gonna tighten and firm everything up," Silla says calmly.
I ask Silla to take a snap of me and I'm a little disturbed when I see the image. "Oh wow…I look like Jason from 'Friday the 13th'." A friend who saw the photo said, "More like Hannibal Lecter."
"Now, I'll let you take a little rest." Silla left me with my own thoughts for 15 minutes, in the dark, all alone – with a contraption hugging my mug and making me look like the lead in a horror franchise.
Going Global and Other Treatments
The Face Place began in WeHo but doesn't end there. "There's someone in New York doing the treatment," said Silla, "and we have locations in London."
As for the future, "The only thing we're looking at maybe doing is expanding into a hotel chain."
What other procedures do they offer? "We have LED treatments, which are light treatments that stimulate collagen in the tissue [and are] also good for acne," said Silla. "Vampire facials, which are done by special technicians are more of a medical procedure."
Remember the vanity of Joanna Lumley's Patsy Stone on "Absolutely Fabulous" or Kim Cattrall's Samantha Jones on "Sex and the City?" Yup, I'm talking face peels. "Depending upon who performs it," Silla said ,[it can be] a very intense peel [or] a lighter enzyme peel."
And finally: "Oh, I forgot the waxing people," said Silla. "We also have waxing."
The Big Reveal
I got my 23andMe.com DNA results in the mail recently (after sticking a swab in my mouth). The anticipation of seeing what I looked like post-facial interested me more.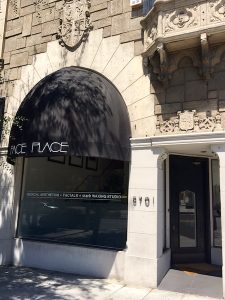 The second mask and set of towels are removed. I start cooling off. "Wait 'til you see," Silla beams, cluing me in to more of their cosmetic philosophy. "Our treatment is more about taking everything out of the skin. When you have clean skin everything you use is gonna work better, too."
Take "your finger [and] just feel your nose." I follow his instructions and "Oh, my gosh," I exclaim.
"Right?" Silla says.
"It just feels so smooth."
Putting my shirt back on I follow Silla out into the hallway to a gold chrome vanity with lots of big white bulbs and a tri-part mirror (very 70s variety show). I lean forward to study my reflection. My pores are the tiniest I've ever seen them, almost invisible, my skin so smooth any infant would be jealous.
Although I'm a little red (especially over the bridge of my nose), it's a common result of the skin suctioning and generally fades within several hours. (Note: If you have a big event to get ready for, my suggestion would be to visit Silla one day prior.)
Seeing I'm pleased, Silla smiles, "[Your skin] will feel hydrated. You're gonna be hydrated. Then you just have to keep it up."
How? By using two Face Place-branded products, of course. One is a collagen moisturizer, the other an under-the-eye firming gel. (Note: I've used both for a week-plus now. The moisturizer seems to extend the results of my facial while the eye gel works better than any other similar product I've tried.)
Foot Rubs, Too
There is one treatment I learned about just before I left.
Silla gestured toward a handsome early thirties otter type who just walked in. "During your treatment you can have Andrew come in and he massages your feet."
Apparently, he's rubbed people the right way there for 12 years. I notice his plastic attaché filled with lotions and massage accessories. "Oh, man, where were you an hour ago?" I tease.
He laughs, giving me his card. "You can always book an appointment. I'm really good."
I don't doubt it. I'm just wondering why this local universe of ultra-effective power facials, just blocks from my apartment all these years, took me so long to discover.
Face Place
8701 Santa Monica Blvd.
West Hollywood, CA 90069
(310) 855-1150
faceplace.com
weho@faceplace.com