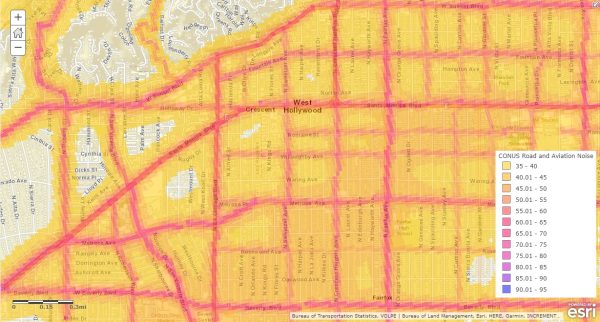 Almost all of West Hollywood is reached by significant noise from cars, trucks, and planes. That is according to a report by WeHo by the Numbers based on the U.S. Department of Transportation's new National Transportation Noise Map.
The government estimated road noise and aviation noise separately. For road noise, it took into account traffic volumes, speeds and vehicle types. In West Hollywood, it included vehicles on the city's most heavily used streets, but not on most residential streets.
The road noise estimates for West Hollywood range from 35 to 70 decibels, averaged over the louder and quieter parts of a 24-hour period. Noise below 35 decibels was assumed to have an insignificant impact. The scale isn't linear: an increase of 10 decibels sounds twice as loud.
For comparison, the hum of a refrigerator might register 40 decibels, a quiet office 50, a conversation 60, a vacuum cleaner 70, a garbage disposal 80, a lawnmower 90, and a jackhammer 100. The 24-hour estimates for nearby freeways are up to 85 decibels.
The aviation noise estimates show that many parts of the Los Angeles region are more affected than West Hollywood, but aviation still contributes to the city's noise level. The estimates suggest all of West Hollywood's Eastside and parts of Center City, Tri-West, and West Hollywood West are affected by flights to and from Santa Monica Municipal Airport. The impact is less intense than road noise: a 24-hour average of 35 to 40 decibels. Helicopters were not counted in the estimates.
When road and aviation noise estimates are combined, only a few spots in the city get less than 35 decibels of transportation noise on average over 24 hours. On the noise map, most of the city is colored.
To find out about noise from helicopters, see the full report, How loud is transportation noise in West Hollywood?