Here are some updates on how to get around West Hollywood this Labor Day weekend: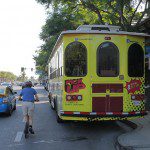 The PickUp, West Hollywood's free weekend shuttle, will offer special service over Labor Day weekend. In addition to running during its regular schedule on Friday and Saturday, the PickUp will operate on an extended schedule on Sunday, with service starting at 2 p.m. and ending at 3 a.m.
The PickUp is a year-round shuttle operating on Fridays and Saturdays from 8 p.m. to 3 a.m., and traditionally on Sundays and popular nightlife holidays from 2 p.m. to 10 p.m.. It travels along Santa Monica Boulevard in a four-mile loop with 15 stops in each direction between Robertson Boulevard and La Brea Avenue. It arrives at stops every 15 minutes.
If you're driving, be aware that the City of West Hollywood won't be enforcing parking meters rules or towing cars parked on certain streets during rush hour on Monday, which is Labor Day. Street sweeping also is suspended Monday. However, permit parking and all other parking regulations will be enforced.
City Hall is closed on Monday but parking passes can be obtained at the Kings Road parking structure at Kings and Santa Monica Boulevard and at the West Hollywood Sheriff's Station, accessed from San Vicente Boulevard just south of Santa Monica.