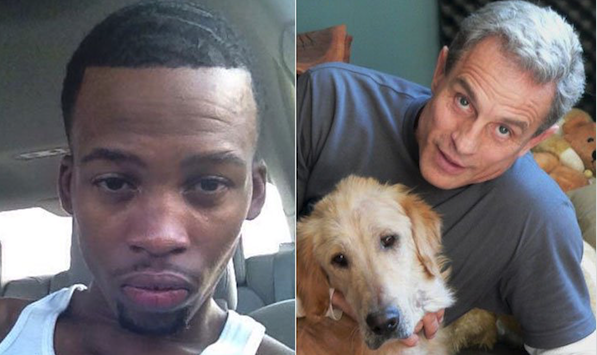 Is Ed Buck still at it?
Buck, a well-known WeHo political activist and donor, is at the center of an investigation into the death on July 27 in Buck's Laurel Avenue apartment of Gemmel Moore, a young black sex worker. The death of Moore, 26, was caused by methamphetamine, an illegal drug, according to the L.A. County Coroner's Office.
Today Jasmyne Cannick, a communications and public affairs strategist who is helping Moore's family, published and shared with WEHOville the story of another young black man who said that on Sept. 11 Buck contacted him on Adam4Adam, the gay sex hookup site. The man, for whom Cannick used the pseudonym "Brian," said Buck sent an Uber driver to pick him up in South Los Angeles and deliver him to Buck's West Hollywood apartment.
Brian told Cannick that Buck used the Adam4Adam profile "dounome." Other young men who had had contact with Buck revealed that his previous Adam4Adam profile was labeled "bucked." Brian said he arrived at Buck's apartment around 12:30 a.m. and smoked crystal meth with Buck and "tried on tights and joggers with him." Previous photos taken in Buck's apartment show young black men trying on various types of tight white underwear, which some have said is a fetish of Buck's.
Brian told Cannick that Buck "kept asking if it was okay to call me that," referring to the N-word. He also said that he resisted pressure from Buck to use drugs that Buck owned. Brian said he left and was paid $60 by Buck.
Cannick has verified Brian's contact with Buck with screenshots from Brian's phone and texts from Buck's phone to Brian's. Those screenshots include Buck's mobile phone number, the last four digits of which Cannick has redacted, Buck's Laurel Avenue address and the security code to enter his apartment building. She provided those images to WEHOville, several of which are published with this article. WEHOville also attempted to contact Buck through the dounome Adam4Adam account. Cannick earlier published pages from Moore's journal in which he described his relationship with Buck and several photos, one of which shows Buck laying on the floor next to a young black man. A screenshot of dounome account throught which what Brian alleges he was contacted by Buck describes a 63-year-old white man with gray hair. "Let me take you home to a place you've never been before," it reads. "I want to show you a facet of yourself that you could not see before. Debauchery." The profile says he uses drugs "socially."
Information about the Sept. 11 encounter has been shared with the L.A. County Sheriff's Department, which recently re-opened an investigation into Gemmel Moore's death after an outcry by his mother LaTisha Nixon, a former Los Angeles resident who now lives in Texas. The original L.A. County Coroner's Office investigation of Moore's death determined it was an accident linked to meth use. The investigators did find drugs and drug paraphernalia in Buck's apartment, however they closed the investigation because they found no evidence that Buck caused Moore's death.
Since LaTisha Nixon's demand for an investigation, many young black sex workers have come forward, although they initially were reluctant to talk about their relationship with Buck for fear of being prosecuted for drug use or prostitution. Nixon asked the L.A. County District Attorney to grant at least partial immunity to those willing to testify, a request that also came from WeHo City Councilmember Lindsey Horvath. The District Attorney has announced it will do that.
Buck has disappeared from public view since Moore's death became public. He has not responded to multiple requests from WEHOville. However his lawyer, Seymour Amster, has gone on the attack. Amster, who claims Buck is "grieving" over Moore's death, appeared before the West Hollywood City Council on Monday to demand an investigation of Councilmember Horvath. Amster said Horvath should not have spoken out to ask for immunity because Buck had opposed her election to the City Council. Buck is known for his successful promotion of a fur ban in West Hollywood, for his promotion of John D'Amico's successful first run for a seat on the West Hollywood City Council with the fur ban as one of his main campaign points and for his donations to local, state and national Democratic Party candidates including Hillary Clinton. Horvath is the only Council member to whom Buck has not given a donation.
Screenshots of texts from Ed Buck's mobile telephone to "Brian" are on the pages that follow.