Trial is set for this coming Monday for Alexander Tor McDonald, who is charged with murder in an incident in April 2014 at 939 Palm Ave. whose handling by West Hollywood sheriff's deputies outraged some community members and illustrated the veil of secrecy under which the Los Angeles County Sheriff's Department operates.
The incident occurred around 9 p.m. on April 7, 2014, when the 28-year-old McDonald, apparently under the influence of drugs, allegedly attacked his roommate, Liam Mulligan, with a knife. Mulligan had been watching television with Chris Moretti, a friend visiting from Australia, and John Winkler, who had recently moved to Los Angeles from Washington State.
McDonald's bizarre behavior earlier that evening had alarmed Catherine Novis, who had dated McDonald and lived down the hall from his apartment. In response to a call from Novis, a team of heavily armed Sheriff's deputies showed up outside McDonald's apartment. Novis has said that she showed deputies photos of McDonald and Mulligan, who look quite different, prompting one of them to point to her photo of McDonald and declare "that's our guy."
Within minutes, the door to McDonald's apartment burst open with Mulligan, bleeding from the neck, trying to escape. He was followed by Winkler. Sheriff's deputies immediately opened fire, seriously injuring Mulligan and killing Winkler, who they handcuffed while he lay dead on the floor.
When the deputies entered the apartment, they discovered McDonald attacking Moretti with a knife. McDonald was arrested and charged with the murder of Winkler, with the reasoning apparently being that the deputies would not have killed Winkler if they hadn't been called to respond to McDonald's attack. McDonald also was charged with the attempted murders of Mulligan and Moretti and with torturing Moretti. He has pleaded not guilty to the charges and has been held in prison in lieu of $4.1 million bail.
The deputies' response prompted a demonstration outside the 939 Palm Ave. building by local residents. City Hall issued a statement lamenting Winkler's death. But West Hollywood City Council members were largely silent about the incident. At a meeting in June 2014 at which residents demanded the City Council take action, then-Mayor John D'Amico and Councilmembers Jeffrey Prang and John Duran instead offered the deputies their support. "We stand firmly with you and the Sheriff's department," Duran said at that meeting.  The City of West Hollywood contracts with the L.A. County Sheriff's Department for public safety services, paying roughly $20 million a year.
Sheriff's Department Committee Recommends Disciplining WeHo Officer
In response to a question from Councilmember Lindsey Horvath at this past Monday night's City Council meeting, Capt. Sergio Aloma, the current head of the WeHo Sheriff's Station (which was headed by Capt. Gary Honings when the 939 Palm incident occurred), said the Sheriff's Department's Executive Force Review Committee has recommended disciplinary action be taken against a deputy involved in the incident. Aloma said that he is not at liberty to offer any other details, including the name of the deputy the committee recommends be disciplined.
Horvath, who was not on the City Council when the 939 Palm Ave. incident occurred, has pushed several times for more information. In March, City Manager Paul Arevalo, acting at Horvath's request, sent a letter to L.A. County Sheriff Jim McDonnell asking for information about what the Sheriff's Department has claimed are investigations into the 939 Palm killing and also an incident in October 2015 when a Sheriff's patrol car swerved off Santa Monica Boulevard and onto the sidewalk, killing one young man and severely wounding another. McDonnell essentially said no information can be released.
Aloma's response to Horvath's question on Monday night is the first public indication that the L.A. County Sheriff's Department believes a deputy should be disciplined because of his involvement in Winkler's death and Mulligan's injury. It is not clear to which of the deputies involved in the shooting  the discipline recommendation  applies, or what that discipline would be, or if it actually will occur.
The Sheriff's Department historically has refused to release the names of officers involved in shootings and initially resisted releasing the names of the deputies involved in Winkler's death. It reluctantly provided those names after WEHOville.com filed a petition seeking the information under the state's Freedom of Information laws. WEHOville cited a May 2014 decision by the California Supreme Court in a case involving a killing by a deputy in Long Beach. The court ruled that police departments could not withhold the names of officers unless there was specific evidence that such a release would endanger the officer involved. Before that ruling, law enforcement agencies in California had increasingly begun to withhold such information from the public, with a notable exception being the City of Los Angeles Police Department, which routinely makes such information available.
The department's reluctance to fulfill the request was evident in its failure to respond to WEHOville's request within ten business days, as required by state law, and by the recalcitrance of officers at the department headquarters in Monterey Park, who were asked by WEHOville on several occasions why they hadn't responded to the request as required by law and who refused to say when they would. While the Sheriff's Department gave WEHOville the names of three officers involved in the incident — Michael Fairbanks, Gerardo Valdivia and Byron Holloway — it refused to identify the officers who actually shot Winkler and Mulligan.
Decision Not to Prosecute Deputies
It was an investigation of the incident by the District Attorney's Justice System Integrity Division that found that Valdivia fired the bullet that pierced Winkler's chest. That report also revealed that Deputy Blanca Rodriquez had shot Winkler using a shotgun loaded with a beanbag round, which is designed to immobilize a suspect without killing him. The deputies were put on paid leave for two weeks after the shooting and underwent counseling and training that the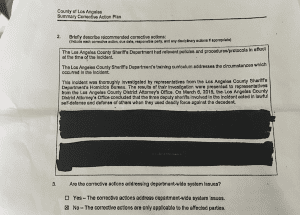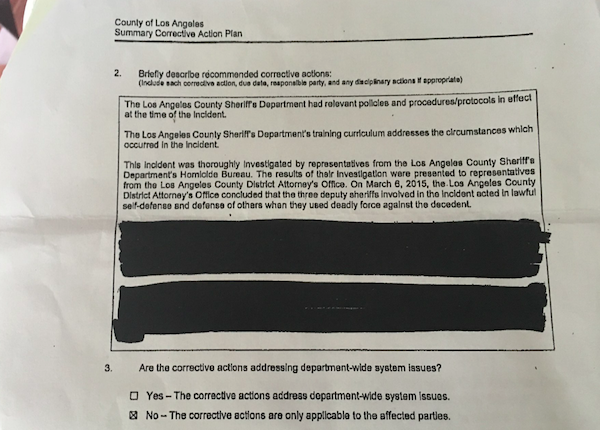 department requires in such situations before being put back on the job. which was discovered and published by WEHOville but had not been released to the City of West Hollywood or local Sheriff's Capt. Gary Honings, revealed that Valdivia is the one who fired the gun whose bullet hit Winkler's chest. Valdivia remains on duty at the West Hollywood Sheriff's Station.
The District Attorney concluded from the investigation that the deputies should not be prosecuted because "California law permits the use of deadly force in self-defense or in the defense of others if it reasonably appears to the person claiming the right of self-defense or the defense of others that he actually and reasonably believed that he or others were in imminent danger of great bodily injury or death."
The "imminent danger" defense has become controversial with revelations on video of  numerous situations across the United States where  police officers did not appear to have a reason for shooting a suspect. The defense is based on a 1989 U.S. Supreme Court case, Graham v. Connor, in which the court ruled that officers may use force so long as it is "objectively reasonable." The court said that that was to be determined by "a reasonable officer on the scene." One police organization, the Police Executive Research Forum, has published a position paper contesting the Graham v. Connor ruling. "Departments should adopt policies that hold themselves to a higher standard than the legal requirements of Graham v. Connor," the paper says.
While the District Attorney decided not to prosecute the deputies, its investigative report did raise questions about who was telling the truth in one important matter. Did McDonald's neighbor Catherine Novis and her friend lie when they told investigators that they had shown deputies photos of McDonald and Mulligan to help them identify the dangerous suspect (and that the deputies acknowledged the photos)? Or did the deputies lie when they told the investigators that Novis did not show them the photos? McDonald's lawyer is likely to pursue that question at the trial.
Expensive Settlement for L.A. County and  Continued Secrecy from Sheriff's Department
Winkler's death and Mulligan's injury were expensive for Los Angeles County. In response to lawsuits from Winkler's family and from Mulligan, the L.A. County Board of Supervisors paid out a total of $7.5 million in damages. As part of the $5 million settlement of the Winkler lawsuit, U.S. District Court Judge Dolly Gee in April 2015 ordered the Sheriff's Department to produce a "corrective action plan."
WEHOville requested a copy of the corrective action plan several times last year. The Sheriff's Department initially declined to release it, citing legal proceedings. It finally released it in July 2016, but the "corrective action" plan was heavily redacted, removing all relevant information. Laurie Douglas of the Sheriff's Department's Discovery Unit told WEHOville that the redaction was a decision by Los Angeles County attorneys. The document submitted to WEHOville stated that the corrective action plan addressed only the deputies involved in the 939 Palm incident and not "department-wide system issues."
The McDonald trial will begin Monday morning at L.A. County Superior Court's LAX courthouse.