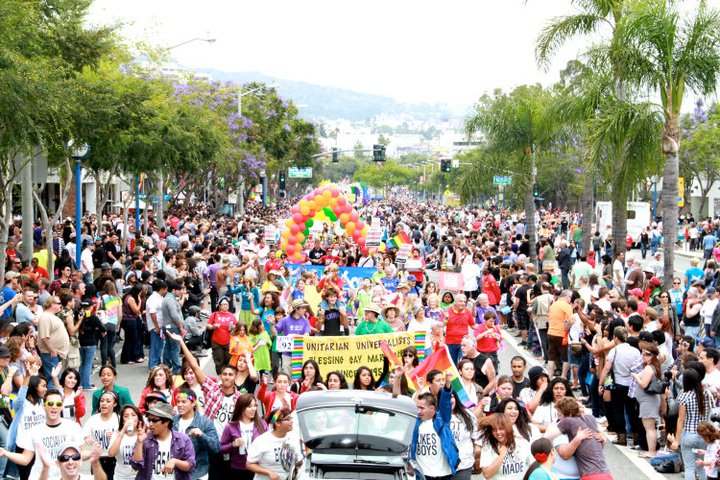 Christopher Street West today announced the selection of eight new members to its board of director and that three are stepping down.
The new board members are:
— Gregory Alexander, Founder, A Club Called Rhonda
— Mistress Cyan, President and CEO, Sanctuary Studios
— Gerald Garth, Program Operations Manager, AMAAD Institute
— Kevin Kelley, Vice President of Creative Development, Propper Daley
— Alexandra Magallon, Workforce Development, TransLatin@ Coalition
— Estevan Montemayor, Communications Director for City Councilmember David Ryu, City of Los Angeles
— Julie Neumark, Marketing Director and Content Strategist
— Brian Rosman, Founder, Dog and a Duck Marketing and PR
.
They will join current board members Steve Andrews (secretary), Chris Classen (p), Erica Meyer, Raul Rios, Marquita Thomas and Shayne Thomas.
Stepping down will be Craig Bowers, Mike Carriere (treasurer), and Ashlee-Marie Preston. "Even though these Board members are approaching the end of their terms, they will continue to stay actively involved with CSW in a variety of ways," CSW said in a press release. "The entire CSW Board thanks them for their service and unwavering dedication to LA's LGBTQ+ community."
"The selection process was more difficult this year due to the sheer volume of applications received," said Chris Classen, the board president. "I'm excited by the diversity and calibre of the applicants who were ultimately elected and look forward to seeing the unique contributions they will all make to CSW."
The board selected the new members from what CSW described as "an overwhelming number of applications to fill only eight open seats." CSW announced in August that it was soliciting applications for its board of directors, providing an online process for filing such applications.
CSW puts on the annual LA Pride event, which traditionally includes a parade on Santa Monica Boulevard in West Hollywood and a festival in West Hollywood Park. The organization has gone through a tumultuous two years, with a loss of nearly $400,000 on the 2016 Pride parade and festival and a decision to replace the 2017 parade with a "Resist March." To date, CSW has not released financial information about the 2017 event.
In January four of its 15 board members resigned, complaining about a lack of transparency and being forced to sign what some saw as onerous non-disclosure agreements. Brian Pendleton, the founder of the Resist March, joined the CSW board just before the June event and resigned shortly thereafter.
"The newly elected CSW board will continue driving the organization's mission of creating safe and inclusive spaces for self-expression, inspiring an authentic sense of activism in the continued fight for equality, and celebrating the unique heritage and diverse cultures of LA's LGBTQ+ community and its allies," the nonprofit said in its announcement.