EDITOR'S NOTE: An earlier version of this story erred in stating construction has been completed. In fact it had been "topped out, which means the last major beam had been out in place. The story has been corrected.
Construction has been "topped out"  on The Edition, the 190-room hotel on Sunset Boulevard at Doheny whose developer once said West Hollywood is "maybe the toughest barrier to entry market in the country. It's very difficult to get approvals and entitlements there. I think it's even tougher than San Francisco."
In the announcement that the construction is "topped out," developer Steve Witkoff bragged that The Edition "is the best located hotel within West Hollywood, a high barrier to entry market and one of the highest RevPAR submarkets in the country." RevPAR is hotel industry speak for revenue per available room, and "topped out" means the last major construction beam is in place.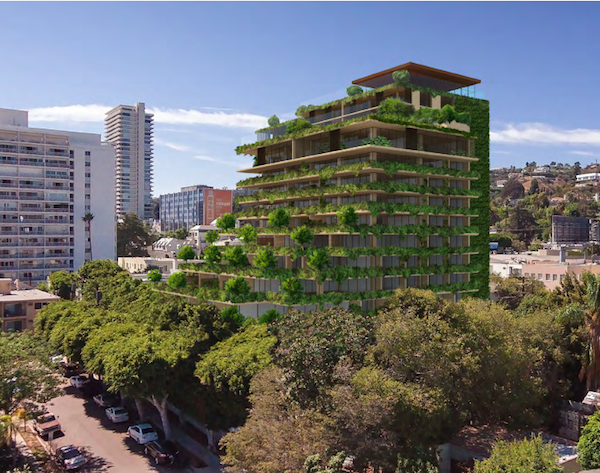 "The housing market in Los Angeles is robust and the quality of our product is stronger than that of any building in the market today," said Witkoff, who is CEO of his eponymous New York City company. In addition to its 190 hotel rooms, The Edition will include 20 condominiums.
In an interview last year with the Real Deal, the real estate development trade publication, Witkoff said that part of the site's appeal is that it is "the absolute closest site in West Hollywood to Beverly Hills. You have these sweeping city and ocean views from the top of the hotel. This area has become kind of a magnet for posh new hotels."
A likely part of the hotel's appeal is that it is a project of Ian Schrager, who pioneered the "boutique hotel" concept with such famous examples as the Delano in Miami and the Morgans, Paramount and Royalton hotels in New York, and John Pawson, the British minimalist designer. The Edition in West Hollywood will be part of the Marriott Edition hotel chain.
Schrager also is known for partnering in the 1970s with Steve Rubell on New York City's Studio 54, the nightclub of choice for the likes of Andy Warhol, Liza Minnelli and Mick Jagger.
Perhaps the most striking aspect of the West Hollywood Edition is its exterior facing Harratt Street. As the building increases in height, its floors seem to step away from the residential neighborhood behind it. Each is heavily laden with trees or  plants. In addition to restaurants, the West Hollywood property also will have a night club and a rooftop pool and bar. The building that comprises the front of the hotel rises to 13 stories facing Sunset Boulevard and the building that is its rear rises nine stories above two stories of parking decks.
All construction  is not yet completed and  it is not yet clear when the hotel will be open for guests.