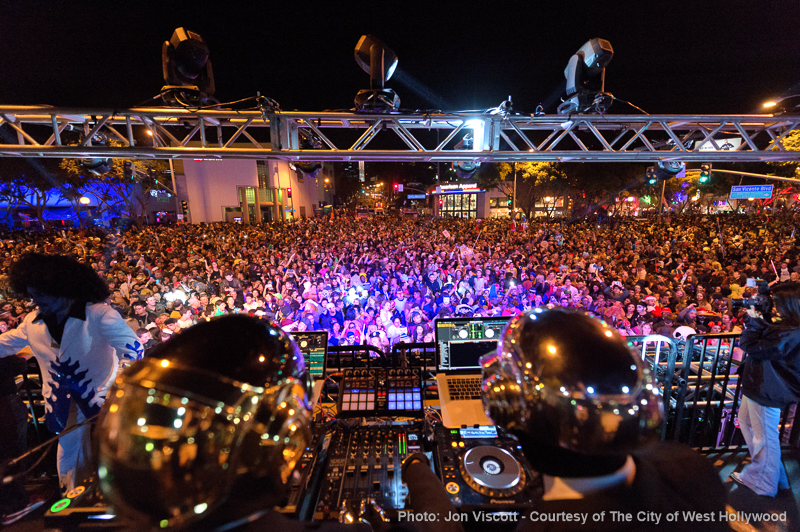 So what about Halloween?
Just 30 days after the mass shooting in Las Vegas that took the lives of 58 outdoor concert-goers (and injured more than 500 others), West Hollywood's annual Halloween Carnaval is expected to bring hundreds of thousands of people from near and far to the short stretch of Santa Monica Boulevard between La Cienega Boulevard and Almont Drive. The event is said to be the world's largest Halloween celebration.
Despite the fact that Carnaval is an event that takes place along an open boulevard with no entry gates and no screening for weapons, it has been remarkably safe since it launched in 1987. The L.A. County Sheriff's Department reported only four arrests at last year's event, all related to drunk and disorderly conduct. There were three the year before. By comparison, in nearby Hollywood there were 40 arrests in a Halloween crowd last year, most alcohol-related.
But Capt. Sergio Aloma, who heads the West Hollywood Sheriff's Station, acknowledges that the Las Vegas massacre, the worst by a single-shooter in American history, is reason for the city to step up its security for this year's Carnaval.
"Certainly we learn from events like that," Aloma said in an interview with WEHOville. "We're obligated to."
As an example, he noted the quick response the L. A. County Sheriff's Department took in 2016 when 49 people were killed and 58 injured at Pulse, a gay nightclub in Orlando, Fla., during the early hours of June 12, the day of the annual L.A. Pride parade down WeHo's Santa Monica Boulevard. Concerns about the Pulse attack were exacerbated that same morning when Santa Monica police discovered and arrested a man in a car with assault rifles and ammunition who said he was heading to the annual Pride parade in West Hollywood.
"We very quickly had to respond," Aloma said, noting that the station was able to call on a variety of additional resources from the L.A. County Sheriff's Department.
The Pulse attack also prompted the City of West Hollywood and the Sheriff's Station to take several public safety measures for the 2016 Halloween Carnaval. For example, the number of entertainment stages along Santa Monica Boulevard was reduced to five from seven the year before. The city hasn't yet announced how many stages, which are places where crowds typically gather, will be included in this year's event.
As was the case during last year's Carnaval, this year there will staff from specialized units of the Sheriff's Department such as the Arson Explosives Detail, K-9 units, Sheriff's Response Team Members and members of the Special Weapons Teams. And a helicopter will be hovering overhead
Aloma said that security measures at this year's Carnaval also will include installation at certain intersections of water-filled barriers, which were used at the Resist March this past June. Those barriers can block vehicles that might try to speed through an intersection and into crowds of people, a technique used by terrorists around the world on ten occasions since 2006. The most notable was an attack last year on Bastille Day in Nice, France, in which a truck struck and killed 84 people.
While West Hollywood doesn't have a building as high as Las Vegas's Mandalay Hotel, on whose 32nd floor the Las Vegas shooter was lodged, there are buildings of multiple stories along Santa Monica Boulevard. Aloma said those buildings will be part of a threat assessment conducted by the Sheriff's Department in the days leading up to the event.
Aloma said there also will be crime analysts looking at social media in the days leading up to Carnaval and during the event itself to track any possible threats. Those crime analysts will be part of a team clustered at a command center (whose location Aloma declined to disclose) outside the Sheriff's Station on San Vicente Boulevard.
There also will be many officers on the ground. "I think it will be difficult for someone attending Halloween Carnaval to look to the left or to the right and not see something," Aloma said. He acknowledged that some officers in the Carnaval crowd will be under cover.
Aloma said that when "boots on the ground" and support staff are added together, there will be more than 400 people focused on public safety during the Carnaval event, a significant increase from earlier years.
While the Sheriff's Department will focus heavily on safety at the Carnaval event, Aloma said it still must pay attention to the rest of West Hollywood and to the Paramount / Universal City area, which has contracted for public safety services from the West Hollywood Station. While that area has a small permanent population, the Universal Studios "Halloween Horror Nights" attracts tens of thousands of people. Those events are on Thursdays through Sundays beginning today and on Oct. 25 and on Halloween.
As was the case last year, Sheriff's deputies will enforce certain rules:
— No alcohol or public drinking will be allowed. (There will be plenty of bars open along Santa Monica Boulevard).
— No backpacks, camera cases, tote bags, etc. will be permitted (clear plastic bags will be allowed).
— No weapons or drones will be tolerated. That includes items that could be used as weapons, such as bats and sticks.
Festival-goers should remember — "If You See Something, Say Something." In other words, if you spot something worrisome approach one of the Sheriff's deputies that will be lining Santa Monica Boulevard or call 911.