The West Hollywood City Council tonight gave its final approval to an ordinance that would permit the sale, consumption and delivery of recreational marijuana and to a fee schedule that would require a payment of nearly $10,000 for those applying for both recreational and medicinal marijuana sales and consumption licenses.
Tonight's approval positions the city to begin accepting applications in January for eight cannabis retail sales licenses, eight medical dispensary licenses, eight licenses for cannabis smoking lounges attached to cannabis stores and eight licenses for lounges attached to cannabis stores where cannabis-laced candies, brownies and other food can be consumed.
The city also will grant up to eight licenses to marijuana delivery services based in West Hollywood. Delivery services based outside West Hollywood must have a WeHo license but there is no limit to the number that will be granted.
While the city will make available a total of 40 licenses for WeHo-based businesses, the expectation is that many businesses will apply for and receive more than one license. For example, there currently are four licensed medical dispensaries in West Hollywood, and each of those can apply for a recreational cannabis sales license.
The existing medical dispensaries can immediately apply for a temporary license to continue operating next year while they apply for one of the city licenses and also for the mandatory state license. One of those dispensaries, Alternative Health Services at 7828 Santa Monica Blvd., must seek temporary approval from the state to continue at its current location, which is fewer than 600 feet from Fountain Day School at 1128 Orange Grove Ave., until it can move to a new location. State law now bans dispensaries and recreational cannabis shops from being located within 600 feet of a school.
Those who get through the multi-stage approval process will be granted one-year licenses which they can renew annually.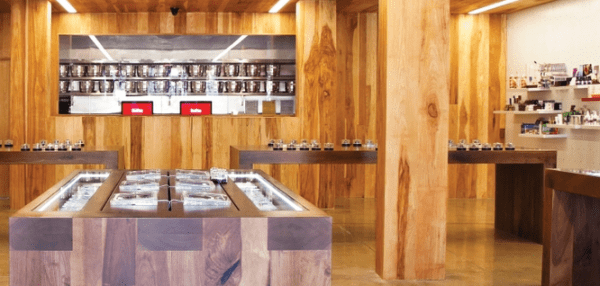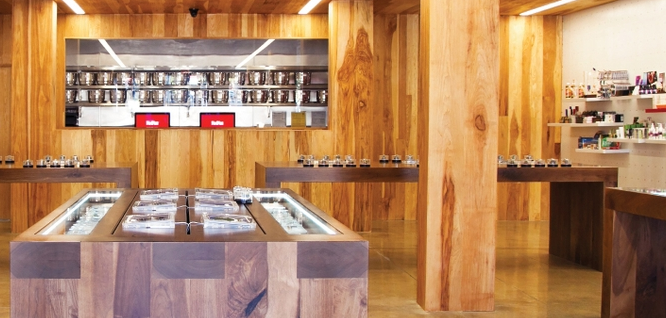 Those seeking a license don't have to have already identified a location for doing business. But once finding a location, the business must have it approved by the city and by the West Hollywood Business License Commission before the city will grant an operating license. That commission will have final sway over the operating hours of each business, which cannot exceed 6 a.m. to 2 a.m. under the ordinance.
Dozens of businesses and individuals have expressed interest in obtaining a license for recreational marijuana sales in West Hollywood since November 2016, when Proposition 64 was approved by California voters. That proposition makes legal the sale of recreation marijuana in California to those 21 and older, although such sales remain illegal under state law. While cannabis-produce vendor Lord Jones recently announced that it would be opening a cannabis consumption lounge in the West Hollywood's Standard Hollywood hotel, City Manager Paul Arevalo said tonight that no licenses have yet been granted.
The applicants for medical dispensary and recreational sales licenses and for consumption areas on-site will have to each pay a fee of $9,880. A memo from the city's Finance and Technology Services Department explains the fee by calculating the hours required for the Community Development Department staff, the assistant City Attorney, the Code Compliance staff and the City Manager to review the applications.
Each applicant, except for the existing medical dispensary license holders, will be evaluated by a three-person committee with no business interests in the City of west Hollywood using eight criteria. Those criteria include previous experience running a cannabis sales business or a similar state-regulated business (such as a bar or liquor store), demonstration that the cannabis offered for sale is of high quality, providing a living wage and benefits to employees and complying with non-discrimination policies, have a strong security program and meeting the city's urban design standards. A more vague standard is "connection to West Hollywood, ability to serve West Hollywood, familiarity with the city, and innovative boutique business models consistent with the West Hollywood community."
The top eight applicants in each license category will then have to find a location for their business within West Hollywood. Once the city grants the license, the applicant must also qualify for a state license.
The actual license fee for the first year of operation for a medical dispensary, recreational cannabis retailer or consumption lounge will be $4,035. In subsequent years, the license can be renewed for a fee of $2,070. Cannabis delivery services based in West Hollywood must pay an initial annual license fee of $2,735, with a fee of $1,015 to renew the license. Delivery services located outside the city must pay an initial fee of $690, with an annual renewal fee of $295.
The city estimates licensing and application revenue of $400,000 to $500,000 next year, a major increase from the $15,000 it has received this year for medical marijuana dispensary license renewals. There has been some discussion among City Council members about putting a cannabis sales tax proposal on the ballot in a future election.