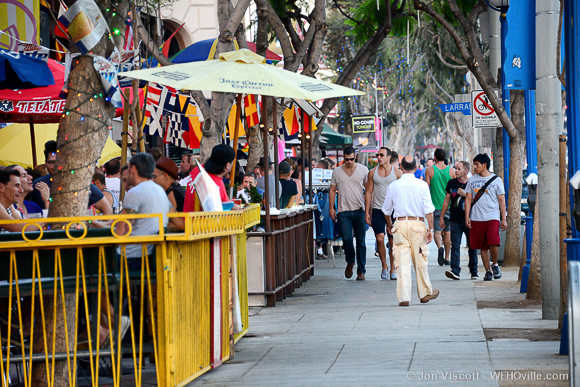 There is some good news for those West Hollywood residents who are wringing their hands in worry that the city is losing its gay identity: West Hollywood has tied with Chicago's Boystown neighborhood as the best "gayborhood."
WeHo's win comes in a "Best of GayCities" poll by GayCities, an LGBTQ city guide and travel site.
San Francisco won the "gold" award as "Most Welcoming City," followed by New Orleans and New York City. Others in the Best of GayCities ranking can be found online here.
Chicago's Boystown district is located in Lakeview, It is the first officially recognized "gay village" in the United States.
GayCities' announcement comes as West Hollywood's gay community is engaged in another discussion about the future of the nightlife district on the west end of Santa Monica Boulevard known by some as Boystown. That discussion is prompted by announcements of new bars and restaurants that aren't specifically targeting a gay clientele, the move of the Andrew Christian apparel shop to downtown Los Angeles and by the announcement yesterday that The Block Party, a well-known gay apparel shop, is leaving WeHo's Boystown.
GayCities is a location-based social network that helps people discover LGBT-focused places and events in cities around the world. It is owned by Q.Digital, a media company targeting the LGBTQ community that also publishes Queerty, a popular entertainment site, and LGBTQ Nation, the world's most followed LGBTQ site with more than 1.8 million social media fans.