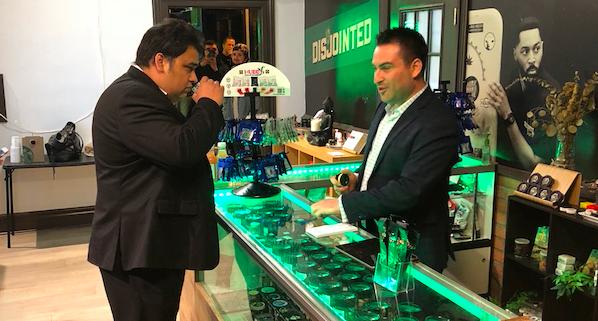 By noon today people were lined up outside of all four medical cannabis dispensaries in West Hollywood to take advantage of the fact that the dispensaries had been granted temporary licenses to sell recreational cannabis.
That decision by the City of West Hollywood made WeHo the first city in Los Angeles County to begin selling legal recreational cannabis.
There were several dozen people in a line outside of Zen Healing at 8464 Santa Monica Blvd.. Several of those on the line, which stretched west toward La Cienega Boulevard, said they had been waiting at least 30 minutes. Alternative Herbal Health Services WeHo, at 7828 Santa Monica Blvd., which today became the city's first recreational cannabis retailer by opening its doors at 6 a.m., had a similar line. More than 40 people were in a line outside MedMen at 8208 Santa Monica Blvd., which extended across Havenhurst to the east. And on the city's Eastside there were about a dozen people in line for recreational cannabis outside Los Angeles Patients and Caregivers Group at 7213 Santa Monica Blvd.
All four medical cannabis dispensaries have been granted temporary licenses to sell recreational cannabis, the sales of which don't require a prescription and are limited to those 21 or older. They must apply for and receive a permanent city license in order to receive a state license.
Later this month the city is expected to begin processing applications for up to eight permanent medical dispensaries, eight recreational cannabis vendors, eight cannabis smoking lounges and eight places for consuming cannabis candies and other products on site. The smoking and consumption businesses must be physically associated with the retailers or dispensaries. Up to eight local cannabis distribution licenses also will be granted. All licenses must be renewed annually.
WeHo City Councilmember John D'Amico stopped by AHHS at its 6 a.m. opening to congratulate Jason Beck, its owner. Beck had been at his shop since 4 a.m. when he took part in a press conference with East Coast media outlets. MedMen held its press conference at 10 a.m. today.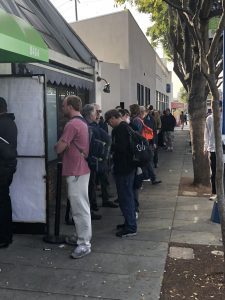 In an interview with WEHOville, D'Amico said that the alcohol officer that he and Councilmember Lindsey Horvath proposed be added to the West Hollywood Sheriff's Station staff also would work with cannabis retailers to ensure they met laws governing sales of the drug. D'Amico said that officer also would work with them to educate their customers and be available to respond to customer complaints about any possible violations of the law.
As noted in an earlier story, legalization of recreational cannabis sales is likely to pose a challenge for medical cannabis dispensaries, who likely will find them to be direct competitors. Those buying cannabis products from a medical dispensary must have a doctor's prescription. That usually is easy to obtain, even for recreational users, but the prescriptions come at a price that purchases of recreational cannabis don't have to pay. On the other hand, medical cannabis dispensaries aren't required to charge the 9.5% sales tax required of recreational cannabis shops.
The legalization is likely to mean retailers will boost prices somewhat so that they can cover licensing fees and sales taxes. The state already has established a 15% excise tax, and an additional $9.25 per ounce of flower or $2.75 per ounce of leaf will be collected from growers. The state's head of cannabis operations also has expressed concern that production and distributed of cannabis products by licensed companies might not be sufficient to meet demand right away. That is because the licensing process for them is complicated and likely to take more time than that for recreational and medical cannabis vendors.
In West Hollywood, applicants for medical dispensary and recreational sales licenses and for consumption areas on-site will have to pay an application fee of $9,880. The actual license fee for the first year of operation will be $4,035. In subsequent years, the license can be renewed for a fee of $2,070. Cannabis delivery services based in West Hollywood must pay an initial annual license fee of $2,735, with a fee of $1,015 to renew the license. There has been some discussion among City Council members about putting a cannabis sales tax proposal on the ballot in a future election.