Kevin Short, also known as Kevin Lee Light but best known to West Hollywood residents and visitors as WeHo Jesus, has died.
Brian Hamilton, a friend and neighbor of Short, confirmed his death in a post on Facebook this evening. The cause of death has not yet been made public. A member of Short's family told WEHOville that he died on Dec. 13 and that his family, which lives in Pasadena, received his ashes today.
As WeHo Jesus, Short was perhaps the best known of West Hollywood's collection of eccentric residents. He has been profiled everywhere from Los Angeles magazine to Huffington Post to the U.K.'s Independent newspaper and recognized by Thrillist as one of "L.A.'s 12 Most Loveable Local Weirdos."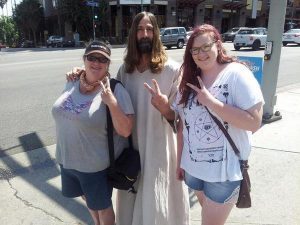 There also is a Twitter account — @ISawJesusInLA — where people are invited to chronicle their encounters with WeHo Jesus. Light had his own Twitter account — @kevinleelight– where he described himself as "la's jesus, tmz's hollywood jesus, aerosmith's street jesus, snoop's sunset jesus, weho's rainbow jesus, lmfao's party rock jesus for barbara ann."
"Kevin is such a celebrity on Sunset Boulevard that he has featured in Lana Del Rey's music videos and rock band Aerosmith even wrote a song, 'Street Jesus,' about him," The Independent said.
In its story, Los Angeles magazine wrote: "Los Angeles is known for having all kinds of characters, but walking the streets as the Son of God in the City of Angels has a certain poetic ring to it. Thanks to smart phones and the miracle of social media, the sunglasses-sporting impersonator (real name: Kevin Lee Light) has gone from being just another West Hollywood oddball to human meme, with hundreds of pictures posted online as well as a devoted flock of Twitter followers via the @IsawJesusinLA feed."
Short, 57, was an actor and has appeared in several award-winning comedic public information videos produced by the City of West Hollywood. The video below is from the second episode of the city's "The WeHoans" series. He kept his life very private, leaving some people to speculate that he comes from a family of wealth.
"He seems to make his way to concerts, sporting events and cultural events regularly," said the story about him on Thrillist, "and — though he dresses like the world's most famous poor man — by all accounts he's doing pretty well, since he drives a Mercedes and has appeared in multiple videos by (of course) LMFAO." LMFAO is an American electronic dance music duo.
Photographer Roo Lewis, whose encounter with Short was the subject of The Independent's story, said "I spent around eight hours with Kevin roaming an empty Rodeo Drive in Beverley Hills, eating pizza in The Rainbow, Sunset Strip and drinking tea in The Standard, West Hollywood, all between the hours of 11 p.m. and 7 a.m.
"I told him I am not religious over a margarita and he stared back at me and said, 'Neither am I.' It was all a bit surreal, but I thought it was kind of relevant – Jesus visiting the most expensive commercial shops the world has to offer around Christmas!"
Short's parents were not available this evening to comment on their son's death given that they had just received his ashes but agreed to share more details of his life later.