WeHo Jesus, aka Kevin Short and Kevin Lee Light, will be remembered on Sunday at a candlelight vigil at West Hollywood Park.
Councilmembers John D'Amico and John Duran are confirmed as speakers at the event, which will take place at 4:30 p.m. on the open lawn near the park's basketball courts on San Vicente Boulevard south of Santa Monica Boulevard. Also attending will be Kevin Short's father, Dale.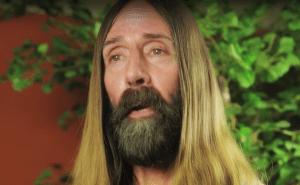 Short died of a lung-related illness on Dec. 13 at the age of 57. His death was only made public earlier this week, and it sparked a flurry of media coverage and statements of sadness regret from his large number of friends and fans.
As WeHo Jesus, Short was perhaps the best known of West Hollywood's collection of eccentric residents. He has been profiled everywhere from Los Angeles magazine to Huffington Post to the U.K.'s Independent newspaper and recognized by Thrillist as one of "L.A.'s 12 Most Loveable Local Weirdos."
"Kevin is such a celebrity on Sunset Boulevard that he has featured in Lana Del Rey's music videos and rock band Aerosmith even wrote a song, 'Street Jesus,' about him," The Independent said.
A 6'7" tall and slender man with long hair and a beard, Short caught the eye of locals and visitors as he walked the streets of West Hollywood and Hollywood wearing sandals and a long robe that evoked the image of Jesus Christ. He was known for allowing tourists and locals to have their photos taken with him without requesting a fee, a common practice on Hollywood Boulevard. He also was known for his willingness to sit for a cup of coffee and talk.
Short was a gay man and on several occasions appeared at the annual LA Pride festival and parade in a sort of quiet protest against the religious fundamentalists who each year turned up to protest the event. He also was not religious, despite his look.  Short grew up in Pasadena and has worked as an actor. He has appeared in a number of videos, including several of the "Wehoan" public service videos produced by the City of West Hollywood. Lisa Belsanti, the city's director of communications, said Short declined to be paid for his work and actually brought donuts for everyone on the production set.
The vigil is organized by Vini DiMambro of Steven Petrarca Events. DiMambro said he was inspired to create the event by his 20 or so interactions with WeHo Jesus. "He always took the time to say hello and talk," DiMambro said.
Those attending are encouraged to bring candles and lighters along with flowers and photos.