Here's guessing that Tomi Lahren won't be partying in WeHo anytime soon.
The 25-year-old Fox News contributor, who recently moved to Los Angeles from Texas (she grew up in South Dakota), visited WeHo and Venice on Monday to find out what Californians think about the fact that the state, and West Hollywood, are designated "sanctuary cities."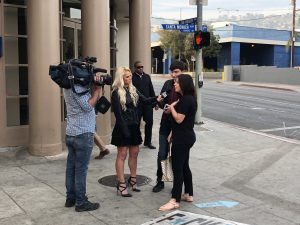 She walked the block of Santa Monica Boulevard from San Vicente toward Robertson Boulevard, stopping people on the sidewalk for interviews and catching the eyes of many who either knew her from her TV appearances or were struck by her long blonde hair, very high heels and very short skirt — the Boystown equivalent of doing the walk shirtless in tight shorts.
Lahren, a virulent opponent of idea of sanctuary cities for undocumented immigrants, shared what she learned on Fox News Insider yesterday in a conversation with Sean Hannity, the conservative commentator.
It appears from the video published above that the West Hollywood locals (with one exception) don't share her love for Donald Trump's extradition plans. Her position got support from one young man and a woman interviewed on the boardwalk in Venice.
Despite that, Lahren told Hannity that "California is not a lost cause. I promise you it's not. There are so many undercover conservatives in this state that I've spoken to that are level-headed that don't like the fact that it's a sanctuary state."
And she said she "did encounter a lot of respectful people that like what we do…on Fox news, that like what I do."
But Lahren said "a lot of Californian are into the whole 'peace, love and welcome everyone' — unless you're Tomi Lahren or Fox News," she said.
"It's a very liberal area," she said. "It's what they call the epicenter of the Resistance, and they certainly know who I was, and there were some words that I can't repeat on national television that they were screaming at me."
"I reminded them that they are supposed to be the loving and tolerant Left, welcoming everyone. Unless you're Tomi Lahren and Fox News and then you're supposed to get out."