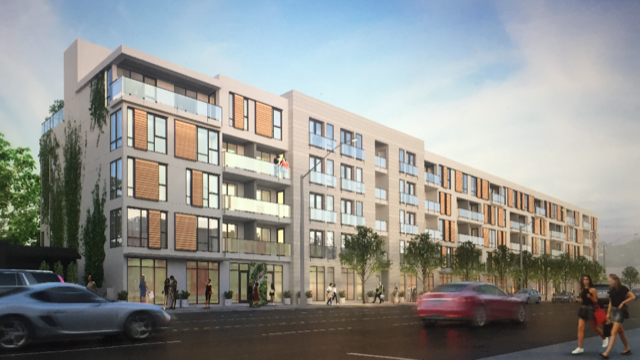 L.A.'s Mid City West Community Council's Planning and Land Use Committee has on its agenda for Tuesday a discussion of a proposed 56-foot high building on La Cienega Boulevard that has drawn opposition from adjacent homeowners in West Hollywood.
The building, a project of Stark Properties, an Ohio-based developer, would replace Mikey's Car Wash at 431 N. La Cienega Blvd. Stark proposes to call it the "Solstice."
Stark originally had proposed a six-story building with 87 apartments. That building would have been just under 67 feet high, a substantial increase over the 45-foot height currently authorized by the City of Los Angeles' zoning law for that property. The ground floor of the building would have almost 3,000 square feet of commercial space, and there would be two levels of underground parking.
Stark's newest plan calls for approximately 72 apartment units with 70 underground parking spaces in one level. The project would include eight units for very-low income renters. The building would be 56 feet high.
Stark also has proposed eliminating the five-foot public right away along Westmount Drive that currently is required by the City of Los Angeles. And it wants to eliminate the required 18-foot setback for a portion of the rear of the building.
The meeting will take place at 6:30 p.m. Tuesday at the auditorium at the headquarters of the L.A. Chapter of the National Council of Jewish Women, which is at 543 N. Fairfax Ave., Los Angeles.
The West Hollywood West Residents Association has alerted its members to the meeting, some of whom are expected to show up to speak about their concerns about the building's height given its location right behind residences on Westmount Drive in West Hollywood. In August the WHWRA asked residents to ask the West Hollywood City Council to push the Los Angeles City Council for an environmental impact review of the project.
Stark Enterprises is said to have bought the property for $21.25 million, or about $652 a square foot, one of the most expensive property deals on a square foot basis in the area.
"The precedent that this project may set is of particular concern to the residents of Westmount and Westbourne Drives," said an email from WHWRA. "Those concerns may have future impact on other WHW homes that abut commercial corridors. "