[quote][/quote]
[pullquote_left][/pullquote_left]
[quote][/quote]
The environmental impact report for the Robertson Lane hotel and retail project will go before West Hollywood's Historic Preservation Commission for review on Monday.
The commission also will hear a proposal by Taylor Megdal to designate as a cultural resource the empty building on the northeast corner of Santa Monica Boulevard and Doheny. Megdal proposes to convert the building, whose exact address is 9091 Santa Monica Blvd., into a commercial space with a ground floor restaurant and a second-floor hotel with six guest rooms. He would keep the roof-top billboard that currently is in place.  If the building were designated as a cultural resource, Megdal would be eligible for tax deductions to help pay for its restoration.
The building, vacant for more than 25 years, was constructed in 1924. Theresa Grimes of GPA Consulting, a firm engaged by the city to survey commercial buildings to determine their cultural significance,  decided that changes to the building over time make in ineligible for designation as a national or state landmark. However, GPA has said the building could be considered for such designation by the city because of its ties to the streetcar era in the 1920s.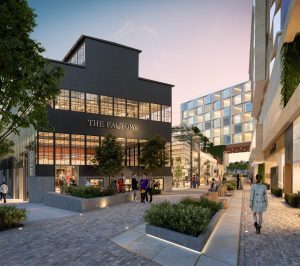 The Robertson Lane project will extend from 645-681 Robertson Blvd. west to 648-654 La Peer Drive. Two of the five HPC members were somewhat critical of the project during a review in May 2017. The project must be reviewed by the HPC because the 1.9 acre site includes the historically designated building known as "The Factory." At Monday's meeting the HPC will consider the final environmental impact report on the project.
The project's developer, Faring (formerly known as Faring Capital), headed by WeHo resident Jason Illoulian, had originally planned to demolish the Factory. But Illoulian now intends to incorporate it into the Robertson Lane project, saying he understands its historic value.
Erected in 1929, the Factory building has connections to both motion picture history and LGBT history. Between 1929 and 1946, the building was the home of the Mitchell Motion Picture Camera factory, one of the early makers of motion picture cameras. Between 1974 and 1992, the building was the site of the large Studio One nightclub, a famous dance club which catered primarily to gay patrons.
The commission will meet at 7 p.m. on Jan. 22 in rooms 5 and 6 of the Plummer Park Community Center, 7377 Santa Monica Blvd. between Vista and Fuller.