Friends of Matt Palazzolo, the young activist and actor who died last week on a mountain hike in Australia, are planning a memorial for him on Feb. 3 at West Hollywood Park.
One of those friends, Reid Lee, also has created a GoFundMe page to raise money for the event.
Lee and others announced the event yesterday. "As we are all struggling to understand and cope with staggering loss of our beloved Matthew Benjamin Palazzolo we wanted to create a page to start organizing his Celebration of Life," they said on a Facebook page titled "Matthew Palazzolo 'Celebration of Life'."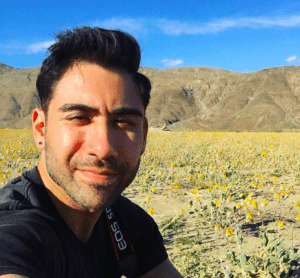 "We are all handling this grief in different ways, and none of them are wrong. Our only request here is that you hold Matt dear to your heart and celebrate the memories you share together."
Palazzolo died of an apparent heat stroke while climbing Mount Sonder, a 4,265-foot mountain in Central Australia. Palazzolo, an avid hiker, and his friend were hiking in 108 degree heat.
Palazzolo, 33, was born in Fremont and acted in films such as in "Bloomers" (2011), "Stone Fruit" (2018) and "Switched at Birth" (2011). He was known in West Hollywood for his activism around LGBT causes. He helped found the Equal Roots Coalition as part of the "No on Prop 8" movement, which included a protest rally drawing more than 12,000 people opposed to the ban on same-sex marriage in 2008. He also served on the board of Christopher Street West, the non-profit organize that puts on the annual L.A. Pride festival and parade.
Palazzolo was appointed to West Hollywood Lesbian and Gay Advisory Board by then-City Councilmember Abbe Land and then re-appointed by Councilmember John Duran and served for eight years. He also was active in local politics, hosting an event to promote Sam Borelli's candidacy for a City Council seat in 2013 and also promoting former Councilmember Jeffrey Prang, who now is Los Angeles County Assessor.
The announcement of the memorial service says it will include "a number of speakers from various parts of Matt's life, a moment of silence, a video in memoriam, a photo collage, a short video retrospective of clips of Matt." It will conclude "with an actual celebration, possibly some dancing and definitely some drinks at a nearby bar."
Friends of Palazzolo are invited to submit online photos or videos of him for presentation at the ceremony.
"We want photos and videos that are Silly, Happy, Laughing, crying EVERYTHING! We want to show every wonderful side of our Kitty," the announcement said.
The event is tentatively scheduled for 3 p.m. The organizers will keep those who want to attend can find updates on the Facebook page.