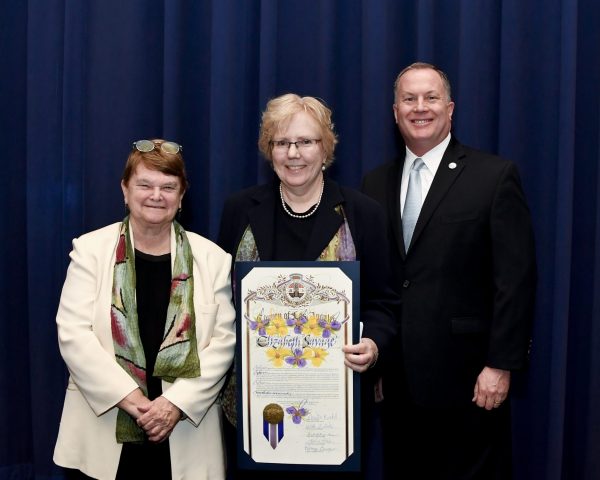 The Los Angeles County Board of Supervisors today recognized Elizabeth Savage, West Hollywood's recently retired Social Services and Rent Stabilization director, for her work to make WeHo "a better place to live for its more vulnerable residents."
Third District Supervisor Sheila Kuehl, whose district includes West Hollywood, presented Savage with a proclamation acknowledging "her work to … champion the city's affordable housing and inclusionary housing programs to ensure that low income residents could continue to live in the community…"
It also acknowledged Savage's work in leading the development of West Hollywood's five-year strategic plan for aging in place / aging in the community.
Savage worked for the City of West Hollywood for 22 years. She started with the city as an administrative assistant and rose through the ranks to become the director of Human Services and Rent Stabilization, one of the largest departments in City Hall. She retired in November.
Savage thanked the Board of Supervisors, saying "I am grateful to live in Los Angeles County, where you, our Board of Supervisors, understands this work and are key leaders. Our county will face even more challenges in serving our communities because of greater wealth disparities and the immoral attacks on public servants, on integrity and against those most vulnerable. We live in a county of exceptional diversity of all kinds and we are fortunate to have such cultural richness – this will be how we have strength in overcoming those challenges.
"I will continue in this work with the support of my family, especially my spouse Roxy Bickerstaff. "