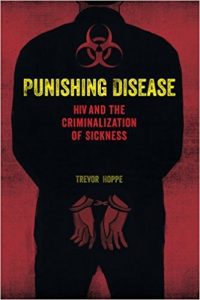 The City of West Hollywood, in conjunction with Lambda Literary, will host a book launch and panel discussion tonight for Trevor Hoppe's new book, "Punishing Disease: HIV and the Criminalization of Sickness."
The panel, which will focus on the outdated and poorly written criminal laws that punish people living with HIV, will feature Hoppe, who is a sociologist at the University of Albany; Robin Barkins, of the Positive Women's Network USA, and Craig Pulsipher, of APLA Health in conversation with Tony Valenzuela, executive director of Lambda Literary.
The discussion will take place from 7 to 9 p.m. in the West Hollywood Library Community Meeting Room, located at 625 N. San Vicente Blvd. Book Soup will be on site to sell books.