Faced with a shared bike program whose revenue has fallen far short of expectations, the West Hollywood City Council is considering making the program free for local residents.
A city report on the bike share program, which launched in August 2016, said total revenue generated by program membership fees and individual ride fees equaled only 13% of projected revenue. The program also fell short of expectations for advertising and sponsorship revenue. It had an overall loss last year of $386,799, which doesn't include city's initial capital investment of about $500,000.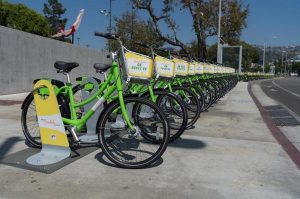 At its meeting last night, City Councilmember John D'Amico proposed what he called a "radical" solution to the revenue shortfall issue — making it free to all. D'Amico said a one-year free program would be a way to get more residents to give the program a try.
The city is exploring joining a Westside network of bike share programs that includes Beverly Hills, UCLA and Santa Monica and would be called BikeShare Connect. Tiffany Robinson, a city senior planner who is the coordinator of the bike share program, said providing rides for free would be a problem because the network is a shared revenue program. But that prompted a recommendation from Mayor John Heilman that the city actually buy an annual membership for West Hollywood residents, who currently make up only 37% of the city's bike share riders. The rest are tourists and other visitors.
The Council agreed to forward that proposal to the city's Transportation Commission for discussion.
Other issues raised by council members were the weight and ease of use of the bikes, which Councilmember Lauren Meister and some local residents described as heavy. Another concern is the location of bike stations. There are 21 of them, with two located at the Grove shopping center and 19 in West Hollywood. The program has 150 bikes. Most of the stations are along Santa Monica Boulevard. Councilmember John Duran said the city should consider putting bike parking stations in areas with a large number of apartments such as Cynthia Street between Palm and Larrabee.
Another issue raised by Councilmember Lindsey Horvath is bike infrastructure. Horvath recommended changing bicycle signs to more clearly communicate to vehicle drivers that bikes have a right to operate in traffic lanes.
Councilmember John Duran said he thought it would take time for residents to adopt the bike share program. However, he said the decision to drive a car rather than ride a bike isn't a matter of price but of convenience. "It's so much easier to get in your car to go to Pavilions."
Another issue the city faces is the emergence of so-called "dockless bikes." These are bikes rented for short term use that are tracked through a GPS system by their owners. Such bikes ultimately could be competitors to the bike share program of the Westside cities.