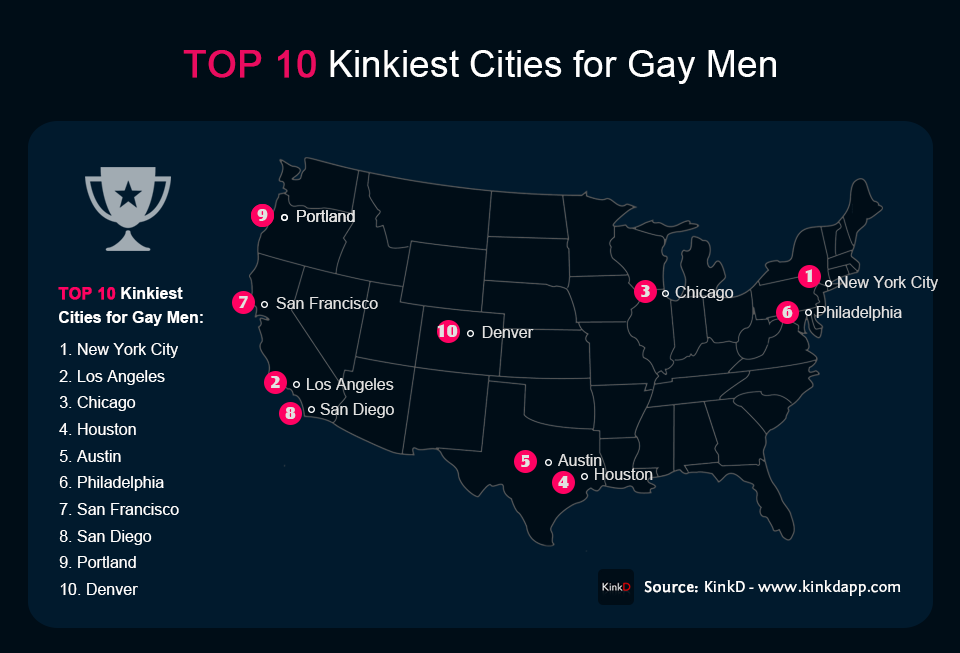 If you've been to Threshold in North Hollywood, or Slammer near Koreatown, or even to an Avatar night at Eagle LA, it might not surprise you that Los Angeles is ranked the second most kinky city for gay men in the United States.
The, uh, top in the ranking is New York City. That's according to a survey by KinkD, a fetish dating app that might make the average Grindr user blush.
"With over 155,000 gay male users in the United States, the KinkD fetish dating app set out to analyze America's kink hotspots, surveying its subscribers on which cities are the most friendly to the kink lifestyle," KinkD said in an announcement of the survey results.
"Top of the table in the survey was New York City, which is to be expected given its long history as one of the country's most thrillingly liberated cities. The West Coast was hot on its tail, however, with Los Angeles posting up at second on the list. Chicago and Houston followed, with Austin flying a second flag for The Lone Star State in fifth place."
"Philadelphia caused a surprise by pipping San Francisco into sixth place, while San Diego, Portland, and Denver were ranked eighth, ninth and tenth respectively. Anyone planning a trip around the fetish capitals of the United States just found themselves a comprehensive itinerary."
John Martinuk, the co-founder of KinkD, had this to say about the survey;
"Dating for gay men can be difficult as LGBTQ people are still discriminated by some in society. The kink lifestyle is also not widely accepted, and it's considered by some to be a sickness.
"It's not easy being a gay man, let alone a gay man into sex outside of the mainstream. It's important for them to know that there are many like-minded gay men out there for them. We hope our top 10 list can help them know that they are not alone."
KinkD is available to download free from the App Store and Google Play.