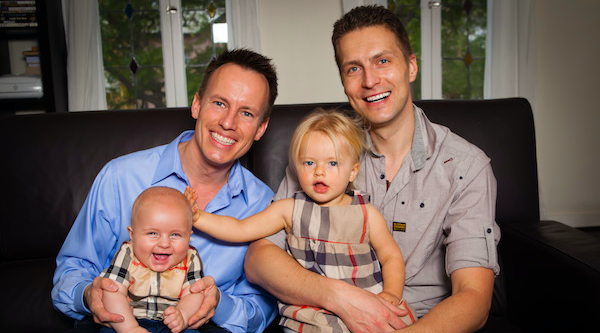 As the LGBT rights movement has progressed in recent decades, having children has become more common for gay men. Many states have changed laws and altered policies to make it easier for couples to adopt or use a surrogate.
Some other countries are much further behind the United States when it comes to LGBT rights. But one local couple's quest to have children resulted in changing the law in the Czech Republic.
Jirka Ambroz, originally from the Czech Republic, and his husband, Rasmus Dixen Ambroz, originally from Denmark, have been together for 14 years. The two enjoy a good life together and are well off thanks to each owning successful small businesses based in West Hollywood.
Jirka owns Abacus IT, an information technology firm servicing website and networking needs for small-to-medium-sized business that don't have a full-time IT person. Rasmus owns PureFreight, an international shipping and crating company that services galleries, auction houses and high-end residences.
The couple love their life together and own a beautiful duplex in the WeHo-adjacent Fairfax district. However, as they reached their mid-thirties, they longed for a family.
Having children was always part of the plan. In fact, they discussed eventually having children on one of their first dates. They just weren't sure when or how to go about it.
"In our 20s and early 30s, we traveled and we partied, we had fun, we were out, we were wild and crazy," recalls Jirka, 41. "In our mid-thirties, we started asking ourselves, 'What's next? There must be something else in life.' We'd see our straight friends having families and kids, and I'm thinking, 'I like what I have with my mom, and maybe I would like to have that too with my child'."
"It was time for us to settle down," adds Rasmus, 42. "We didn't want to get too comfortable with our life. We'd known we would one day have children, so we were ready to become parents."
They researched surrogacy extensively, but ultimately opted not to use an expensive surrogacy agency. Instead, they advertised for a surrogate on Craigslist. Once they found the right surrogate, they got all the legal paperwork in order, passed psychological tests and got an egg donor through an agency.
With the same surrogate and same egg donor, they had two children – Olivia, born in April 2012, and Lukas, born in July 2013.
Blonde-haired Olivia, now almost 6 years old, loves sports and superheroes, but hates wearing dresses, preferring shorts or jeans and a t-shirt. "Olivia runs the house. At least she tries to," says Jirka.