The West Hollywood City Council will devote most of its next meeting to a study of the homeless issue and what can be done about it.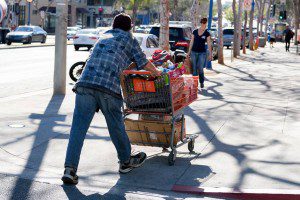 That "study session on homelessness" will take place at 7 p.m. on Feb. 5 at the City Council Chambers, 625 N. San Vicente Blvd., south of Santa Monica. The regularly scheduled City Council meeting will begin at 5:30 p.m., one hour earlier than regularly scheduled.
The homelessness study session will feature a panel of experts in outreach to people who are homeless, in providing social services to the homeless, in safety and law enforcement, in public policy and advocacy and in funding related to the recent passage of Los Angeles County Measure H.
Measure H is an increase of .25% in the sales tax that was passed by Los Angeles County voters in March 2016. It is expected to generate $1.07 billion in revenue over the next 10 years that will be used to address the homelessness issue.
The meeting is open to the public. Validated parking is available at the adjacent five-story West Hollywood Park parking structure.
The City of West Hollywood's WeHoTV will broadcast this meeting on its cable and web channels. WeHoTV is available to Spectrum (formerly Time Warner Cable) customers within West Hollywood on channel 10. AT&T U-verse customers across Southern California can access WeHoTV on channel 99. Coverage will also be available for live streaming and on-demand replay on the city's website and on WeHoTV's YouTube channel.