The AIDS Healthcare Foundation has purchased the Sunset 8 Motel in Hollywood and plans to convert it into transitional housing for the homeless with a priority for those with chronic health issues.
The purchase was announced this morning by Michael Weinstein, president of AHF.
"The homeless crisis in Los Angeles is a crisis, one that requires an across the board, 'all hands on deck' response rather than the well-intended, but sclerotic government effort we are witnessing by L.A. City Hall and County officials," said Weinstein in an announcement of the purchase. "The count, now, nearly 58,000 homeless individuals, reflects a staggering 23% increase just last year.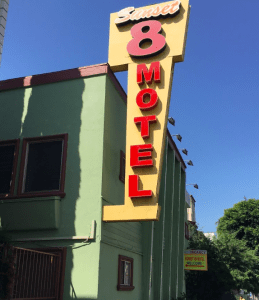 "These numbers–and more important, these faces and lives–dictate that every possible type of housing be explored and pursued: tents, tiny houses, reused city buildings and especially, old motels. As such, Healthy Housing Foundation by AHF and our partners are proud to announce the acquisition of the Sunset 8 as well as our plans to repurpose this facility into transitional housing for individuals, families and children, with a particular focus on housing those with chronic health conditions."
The surge in homelessness throughout Los Angeles County also has had an impact in West Hollywood, where city officials are examining solutions.
The annual countywide homeless count takes place in West Hollywood tonight. Last year it showed WeHo's homeless population had increased by 30% from the year before. A report by the Los Angeles Homeless Services Authority said 105 homeless people were discovered in WeHo during the street survey conducted in January 2017. That compares with 81 counted in 2016 and 54 in 2015.
The West Hollywood City Council has scheduled a special study session on homelessness on Feb. 5. It will feature a panel of experts in outreach to people who are homeless, in providing social services to the homeless, in safety and law enforcement, in public policy and advocacy and in funding related to the recent passage of Los Angeles County Measure H, which authorizes a .25% sales tax increase to generate an estimated $1.07 billion over 10 years to help the homeless. That "study session on homelessness" will take place at 7 p.m. on Feb. 5 at the City Council Chambers, 625 N. San Vicente Blvd., south of Santa Monica.
AHF, whose primary mission is assisting those with HIV and helping prevent the spread of that virus, has gotten involved in housing in several ways. It was the primary backer of Measure S, an unsuccessful ballot initiative that would have place a two-year moratorium on some larger-scale real estate development in Los Angeles. It has created the Healthy Housing Foundation and in October bought the Madison Hotel, a 220-room SRO hotel on Skid Row in downtown L.A. It plans to give priority at the Madison to those with chronic health issues. The Sunset 8 motel, located at 6516 Sunset Blvd., has 27 rooms.
"There is a disconnect among politicians, leaders and officials and the community when it comes to the reality of the homeless situation in Los Angeles and possible solutions," Weinstein said. "As it stands now, 'affordable' units simply cost too much to reasonably or effectively address the crisis we are facing. We cannot build our way out of this heartbreak. And too many people get a piece of the pie-developers, builders, lawyers, the city treasury, in the form of fees and permits-all have a hand in the till before it trickles down to the 'lottery winner' of a tenant who is lucky enough to get placed in one of these photo-op flats. Nothing should cost more than $200,000 and 50% of such units should be $100,000 and below."
As an illustration of the financial efficiency of its approach, AHF noted that the purchase price for the Sunset 8 Motel was $4.6 million, or $170,370 per room or unit. The purchase price for the Madison Hotel was $7,575,000, (the parking lot was $450,000, for a total of $8,025,000less a repair credit of $25,000 and a donation of $50,000. to AHF. That left the net price at $7,950,000 or approximately $36,000 per room or unit.