Pedro Rubio, a West Hollywood resident perhaps best known for his tailoring shop on Fairfax Avenue, has been recognized for his design at the biannual Golden Thimble Fashion Show.
Rubio won first place in the evening wear category, one of seven that also includes swimwear, athletic leisurewear, childrens wear, day dresses, "after five" and menswear. Rubio won third place in the menswear category.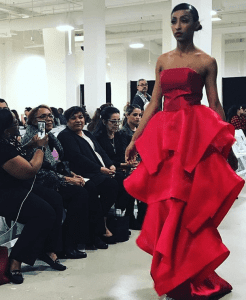 Another of his creations, a replica of a design by the famed Edith Head, was featured on the front page of Apparel News, an industry publication, which covered the Golden Thimble event.
The Golden Thimble Fashion Show is staged by the Los Angeles Trade-Tech College for graduating fashion students.
Rubio closed the Pedro Rubio tailor shop he opened in 2010 on Fairfax to pursue a dream to become a designer, although he still offers tailoring services and can be reached at pr.bespoke@gmail.com.
A story in West Hollywood Magazine in September 2016 reveals Rubio's evolution as a designer. He came to West Hollywood from San Diego at the age of 19, with the dream of opening his own store. But for two decades he worked for others.
To make ends meet, he got a job doing sales at the Gap in Glendale. Eventually, the Gap came to recognize Rubio's visual skills and put him in charge of the display windows in the region's stores.
Eventually he moved on to Chanel on Rodeo Drive as its new window designer. That is when, according to the West Hollywood Magazine story, Rubio realized that he wanted to design fashion.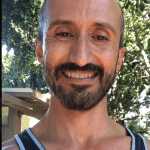 "But I didn't want to be a conceptual designer," he explained. "I wanted to know how to do it myself." So he signed up for a hands-on tailoring program at a local trade school.
A move to New York City landed him at Gucci where Rubio became manager of alterations with a staff of ten.
In 2001 he flew back to Los Angeles. In 2010 he opened his own store but left it briefly when he couldn't resist an offer from Chanel, a brand he loved, to be the ready-to-wear specialist at its store on Robertson Boulevard.
That ended dramatically when a new customer walked in with a gun and strolled through the store, picking out items in a feigned, large-scale purchase.
"After he got what he wanted, he looked at me, dead in the eye, and said, 'Now I'm going to leave, and I don't want you to say anything for five minutes, because I know where you work and who you are.' So I waited five minutes," says Rubio, "and then I told the manager."
That was the close to Rubio's chapter with Chanel and a new beginning for the store he had neglected–his own.
More of Rubio's work can be seen on Instagram (@pedrorubiotailored) and