A man who is suspected of being involved in a violent, nearly month-long crime spree across Los Angeles County and was shot by police after a wrong-way freeway crash was ordered Thursday to stand trial on more than 30 counts, including murder. The crimes include an alleged shooting on Dec. 29, 2015, of a man delivering food to an apartment building on Kings Road in West Hollywood.
Los Angeles Superior Court Judge M.L. Villar said she found "overwhelming evidence" to allow the case against Artyom Gasparyan, 34, to proceed to trial.
Gasparyan is charged with 32 counts, including murder for the Dec. 30, 2015, slaying of Adan Correa, a 37-year-old father of two, who lost control of his vehicle after being shot in Panorama City.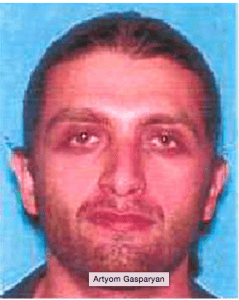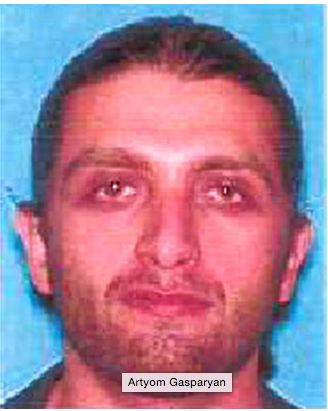 The motive for Correa's killing is not known, authorities said.
The murder charge includes the special circumstance allegation of an intentional shooting from a motor vehicle. Prosecutors will decide later whether to seek the death penalty against Gasparyan.
He is also charged with 11 counts of attempted murder, six counts of second-degree robbery, five counts of shooting at an unoccupied vehicle, two counts each of carjacking and assault with a firearm and one count each of attempted robbery, fleeing a pursuing peace officer's motor vehicle while driving recklessly, hit-and-run driving resulting in injury to another person, assault with a deadly weapon and possession of a firearm by a felon.
Two of the charges stem from an alleged Aug. 5, 2015, knife attack on a woman — about four months before the series of robberies and shootings began in mid-December 2015.
Gasparyan, who was brought to court in a wheelchair, was shot by Los Angeles police on Jan. 4, 2016, after a wrong-way crash on the Golden State (5) Freeway in Sun Valley that injured a woman and her three children.
In January 2016, Los Angeles police Chief Charlie Beck said Gasparyan was suspected of being involved in a string of crimes stretching from Burbank to Long Beach to West Hollywood to Carson and Panorama City.
"He's been involved in several carjackings, several armed robberies, at least one homicide, at least four attempted homicides and is a very, very dangerous individual. I have had well over a hundred detectives and several hundred line officers assigned specifically to capture him over the past week," the police chief said then.
Authorities said Gasparyan had also been tied to a police pursuit that began on New Year's Day 2016 near the Harbor Gateway area and ended when a second suspect, Daniel Ramirez, shot himself in the head at a Long Beach home in the 3300 block of Daisy Avenue after shooting two men and stabbing another.
Ramirez, who died of his wounds, was identified by police as Gasparyan's accomplice. The other men survived their wounds.
Deputy District Attorney John McKinney told the judge a number of the victims shot during Gasparyan's alleged crime spree — some of it allegedly with Ramirez — suffered potentially life-threatening injuries and are "really fortunate to be alive."
The prosecutor told the judge that the shootings included a Dec. 13, 2015, attack on a valet and a "road rage-type shooting" on Dec. 28, 2015, saying that there was "irrefutable evidence" that Ramirez had joined Gasparyan in the alleged crime spree by the time a man delivering food in West Hollywood was shot Dec. 29, 2015.
A GPS device in Gasparyan's car linked the vehicle to the crime scenes, and items taken during some of the crimes were subsequently found in Gasparyan's car following his arrest, according to the prosecutor.
The judge rejected the defense's contention that there was insufficient evidence to substantiate some of the charges.
Gasparyan — who remains jailed without bail — is due back at the downtown Los Angeles courthouse for arraignment Feb. 15.