State Sen. Kevin de León (D-Los Angeles) is being criticized for not giving donations to his political campaigns by Ed Buck to a fund established to advocate for justice for Gemmel Moore, the young black man found dead of a methamphetamine overdose on July 27 in Buck's West Hollywood apartment.
"Black Lives Matter, Black Gay Lives Matter–but apparently not to Kevin De León," said Jasmyne Cannick and Nana Gyamfi in a press release criticizing De León, who has announced his bid to unseat incumbent U.S. Sen. Dianne Feinstein in the November 2018 election.
Cannick and Gyamfi are working with the family and friends of Moore. Buck, 63, is a gay white man known in West Hollywood for his advocacy for the successful ban on retail fur sales and his promotion of John D'Amico's successful campaign for a WeHo City Council seat n 2011.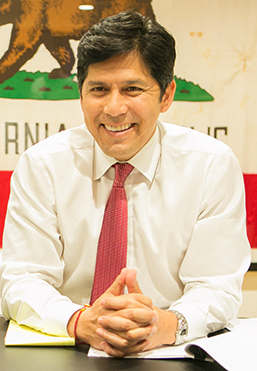 "De León was asked directly to return Ed Buck's money in November at the winter meeting of the California Democratic Party to which he replied then that it had already been done or was in the process of being done," says the press release. "The ask was clear and direct as it has been with all of the Democrats in California who have taken Ed Buck's dirty money–return the money to the fund set up to assist with the victims of Ed Buck and to fight for justice for Gemmel Moore. It could not have been more clear. Do not return the money to Ed Buck, do not return the money to another organization–help the victims of Ed Buck."
In a video of the Democratic Party question and answer session referred to in the press release, De León says the answer as to whether he has returned donations from Buck "is unequivocably without … a doubt, yes." However De León said he didn't know whether the money was given to the Gemmel Moore fund or a domestic violence fund.
Gemmel Moore's mother, Latisha Nixon, and Gyamfi, the attorney for the Moore family, have confirmed that they have not received any communication from De León or his office and that the money was not donated to the Justice 4 Gemmel Moore fund.
"A staffer of De León's, Jennifer Barraza, said that Ed Buck's donations had been donated to WEAVE–a Sacramento based nonprofit that provides crisis intervention services for survivors of domestic violence and sexual assault in Sacramento County," says the press release.
"In December, WEAVE signed a contract with the California State Senate to provide a confidential advocate accessible to Senators, Senate staffers, and Senate interns through a confidential telephone number, confidential email, and appointments at a nearby office. A similar contract with signed with the California State Assembly in early January extending identical access and resources to assembly members, staffers and interns."
In the press release, Cannick and Gyamfi said that "To date Congressmember Karen Bass has returned her money in addition to Democratic attorney and Congressional candidate Bryan Caforio. Stonewall Democratic Club returned some of the money Buck gave to them and West Hollywood Councilmember John D'Amico returned $25 of the thousands he received from Buck."
After discovering Moore in Buck's Laurel Avenue apartment on July 27, the L.A. County Coroner's Office ruled that his death was an accident attributed to an overdose of methamphetamine. After an outcry from Moore's family and friends and pressure from L.A. City Councilmember Mike Bonin and WeHo Councilmember Lindsey Horvath, the L.A. County Sheriff's Department announce din August that its Homicide Division would look into Moore's death. Since then detectives reportedly have interviewed a number of young black men who claim Buck paid them to party with him.
Neither the Sheriff's Department nor county District Attorney Jackie Lacey to date have revealed anything about the status of the investigation. Meanwhile, Buck has continued to invite young black men to his apartment, and in one of those instances documented in text messages between Buck and a young man, Buck explained his desire to do illegal drugs with him.