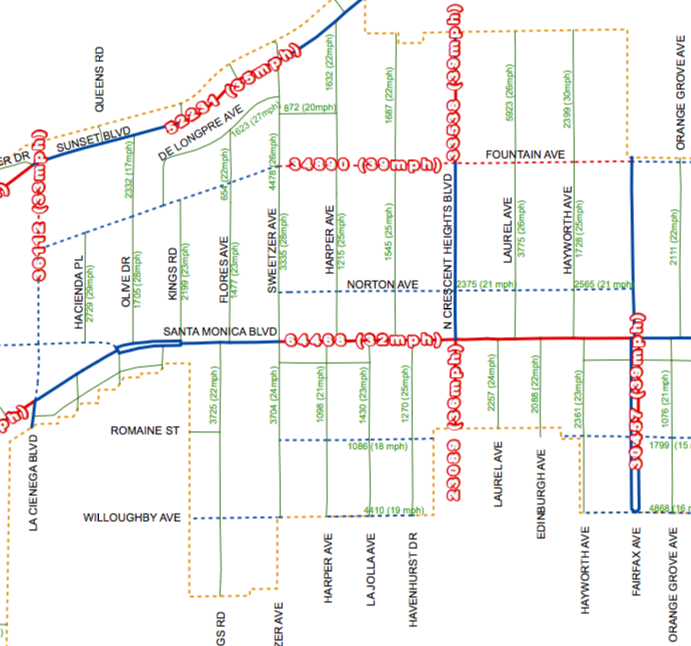 The West Hollywood City Council last night approved a proposal to reduce traffic and traffic speed in the area bounded by Sunset Boulevard on the north, La Cienega Boulevard on the west and Fairfax Avenue on the east. The southern boundary is mostly along Willoughby Avenue but includes Romaine Street, Waring Avenue and Santa Monica Boulevard
That Mid-City area was the subject of a study commissioned by the City of West Hollywood in response to complaints from residents about traffic in the area.
The Council endorsed a test of "speed lumps" on the 1300 and 1400 blocks of Hayworth Avenue. Such lumps, which are low-edged ridges across a street, are intended to slow drivers.
While neighborhood residents have complained about too much "cut through" traffic and speeding vehicles, the study by traffic consultants Fehr & Peers found little difference between traffic there and in other residential areas around the city.
By way of comparison, Fehr & Peers noted that the Mid-City daily traffic on Flores Street between Fountain and DeLongpre avenues averages 650 vehicles a day and up to 5,900 vehicles per day on Laurel Avenue.
"Rosewood Avenue and Gardner Street, two sample city residential streets outside of the Mid-City study area, have daily volumes of 4,242 and 7,020 vehicles, respectively," said a memo from the city's Community Development Department about the study. "This information on vehicle counts confirms that the Mid-City neighborhood traffic volumes are typical compared to other city neighborhoods. In addition, the surveys show the speeds in the Mid-City area are within an acceptable range of the 25 mile per hour speed limit."
The Fehr & Peers study recommended testing speed lumps on De Longpre Avenue, Edinburgh Avenue, Flores Street, Hacienda Place, Harper Avenue, Havenhurst Drive, Hayworth Avenue, Laurel Avenue and Olive Drive. However speed lumps can only be installed with the support of a majority of residents in the areas. The residents of the 1300 and 1400 blocks of Hayworth are the only ones to have done that so far. Plans are to install the lumps this spring for a six-month tests. Residents on other streets are organizing support for implementation of changes there.
Other proposals in the study are:
— Installation of bulb-outs, which are curb extensions that reduce the speeds of motorists turning at an intersection, at the following intersections:
De Longpre/Flores
Harper/Romaine
La Jolla/Romaine
Havenhurst/Romaine
–Creating a raised intersection at Kings Road and Romaine Street. A raised intersection is a slight slope in the pavement that reduces speeding and encourages motorists to yield to pedestrians.
–Installing a stop sign on Flores where it dead ends into De Longpre to clarify the vehicle right-of-way.
The Fehr & Peers analysis notes that one of the issues is that drivers on "arterial streets" bordering and running through area sometimes divert onto neighborhood side streets to avoid slow traffic. It cites traffic on those arterial streets as 64,500 vehicles per day on Santa Monica Boulevard, 52,200 vehicles on Sunset Boulevard, 36,100 on La Cienega Boulevard, 34,900 on Fountain Avenue and 33,500 on Crescent Heights Boulevard.
The Fehr & Peers study recommendations intersect with efforts the city is making to slow traffic and reduce accidents on Fountain Avenue. Those efforts were prompted by complaints from residents along Fountain Avenue and the death last year of a pedestrian hit by a car while crossing Fountain.
Residents reacted favorably last month to proposals for some quick fixes focused primarily on the intersections of Fountain with Harper Avenue, Havenhurst Drive, Hayworth Avenue and La Brea Avenue.
Many of them are intended to reduce broadside collisions by reducing the number of left turns made on Fountain from intersections without stop lights. A map illustrating those collisions shows that they constituted 32% of the 179 total collisions between 2012 and 2016, with most of them involving vehicles headed south toward Fountain.
The immediate solutions, recommended by the city's Long Range and Mobility Planning Division and based on study by Fehr & Peers, the traffic consultant, include:
-Installing a median on Fountain at its intersection with Harper that would make it impossible for drivers headed north or south on Harper to turn left onto Fountain.
-Installing signs on Havenhurst and on Hayworth alerting drivers that only right turns are permitted onto Fountain.
-Adding a right turn lane on Fountain on the west side of La Brea Avenue and extending the length of the left turn lane on Fountain at La Brea so that cars wanting to turn left don't impede those heading east across La Brea.
Also, on Fountain just east of La Brea, the city would remove some parking space and create a "bulb out," which effectively reduces the width of Fountain and thus would slow cars headed west across La Brea.