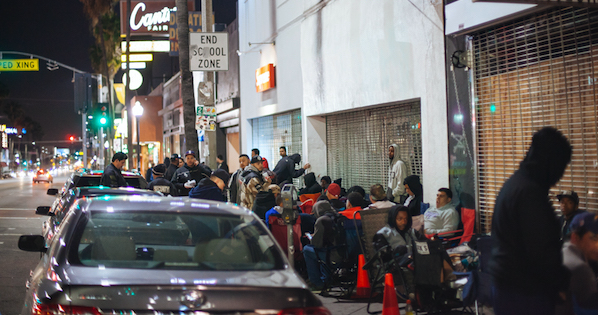 The most dope store in Greater WeHo? Any dude with an appreciation for nice kicks or a rad Scarface hoodie knows that would be Supreme at 439 N. Fairfax Ave, just south of West Hollywood.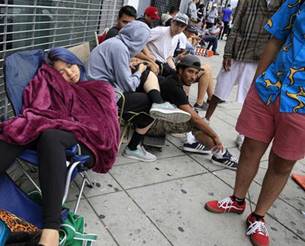 Those readers driving to Cantor's for a meal may have noticed the long lines of kids on the sidewalk, some sitting with their butts on the pavement, others taking quick glides on skateboards and many vaping some weed. The average West Hollywood resident might assume they were the homeless of the Fairfax District. But actually they are shoppers with wads of cash in their pockets or a credit card from dad, waiting to buy the most dope skateboards, shoes, t's, hoodies and hats around (and perhaps make a bundle reselling them.)
But with Supreme's celebrity comes notoriety. It finds itself in a battle with its business neighbors and none other than Satan (on the "Twilight Zone") and the Catwoman (on "Batman"), aka Julie Newmar, the celebrated actress who owns a nearby building with four tenants on the northwest corner of Rosewood Avenue and Fairfax.
Newmar has reached out to the City of Los Angeles many times about problems her tenants and their customers are having with Supreme, most recently in a series of email messages shared with WEHOville that describe fights, thefts and Supreme customers blocking the sidewalk and urinating on it.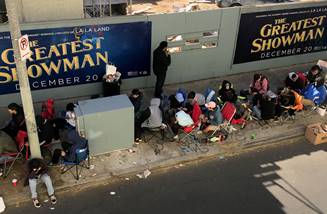 The issue stems in part from Supreme's odd retail model. Unlike most stores, which count on regular traffic six to seven days a week during pre-set hours, Supreme has what one might call "flash mob" sales. Those seasonal releases of new products, known as "drops" result in long lines along Fairfax of customers hoping to actually be able to get their hands on the hippest new shirt, cap or shoes. And those lines start forming as early as the Monday before the Thursday sale begins. The latest is rumored to be the end of this month, with the exact date not yet announced. Some of the customers who show up are there to round up merchandise that they can resell online. Such sales have even inspired a documentary called "Life as a Successful Supreme Retailer" (posted at the bottom of this page) that focuses on Supreme re-sellers in New York City.
Newmar said that from 1,500 to 5,000 kids show up on Fairfax to wait for the opening of the store.
"They wait there for 'The Drop' for up to four days and four nights filling streets and sidewalks from Monday morning through Thursday evening, sleeping anywhere they can at night," she said in her email. "Blocking all the other businesses within blocks, they urinate, steal, get stolen from, the kids are being preyed upon."
"It should be called 'The Dump,' It's mayhem. A scourge for all the rest of us in the neighborhood."
Newmar said one business owner on the street was assaulted by five teenagers. "His 5'2" cashier quit in tears when a 6'4″ guy in a bogo hoodie yelled at her for not giving him a drink while his buddies stole cans of soda from the fridge. Fist fights had been happening outside his store. Altercations went on all day long."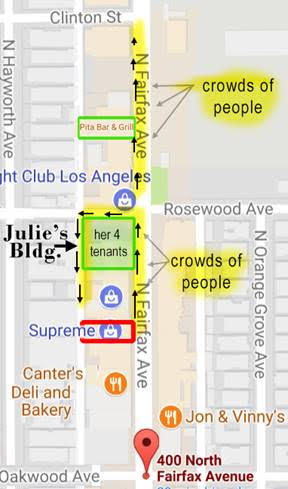 In a December email to Jeffrey Ebenstein, legislative deputy to L.A. City Councilmember Paul Koretz, in whose Fifth Council District Supreme is located, Newmar said her tenant's "'life felt threatened' by the gangs – due to the presence of SUPREME. They have threatened to stab him, he is so worried for his safety that he carries a small hammer in his pocket." That restaurant owner told Newmar that both employees and customers have left him because of the hassle from Supreme customers.
Newmar also has reached out to Mehrnoosh Naderi, the neighborhood prosecutor for the City of Los Angeles' Wilshire Division. In an email Naderi, who currently is away from the office, said "We are actively working on this matter with Council District 5, LAPD, and Bureau of Street Services to alleviate the situation, within the confines of the law. I understand that you would prefer that we tell the location they can no longer release products, but legally, that is not something we can do."
Supreme opened its doors in 1994 on Lafayette Street in Manhattan, then one of that city's hippest neighborhoods, and quickly became home to the skate culture. "Skaters, punks, hop-hop heads – the young counter culture at large – all gravitated toward Supreme," the company brags on its website, which is as deliberately hip and mysterious as the shop itself.
Supreme opened a store on Fairfax Avenue in 2004 and has opened others in Brooklyn, London, Paris and three cities in Japan. It collaborates with brands such as Nike, Air Jordan, Vans, Comme des Garcons, Timberland and Hysteric Glamour.
Supreme founder James Jebbia last year announced the sale of 50% of the company for around $500 million to private equity firm The Carlyle Group.