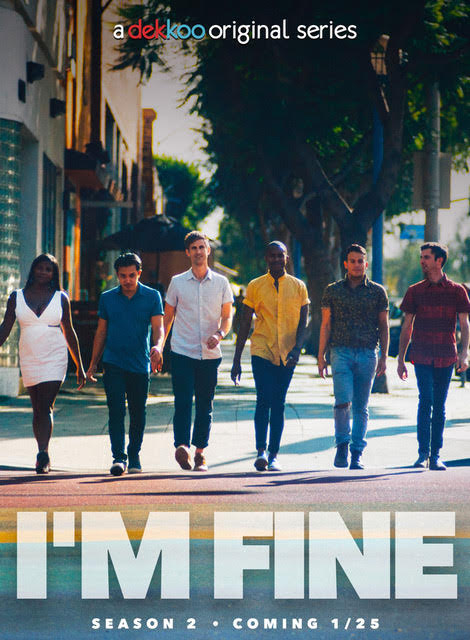 Once upon a time, gay representation on the small screen was few and far between, with gay characters often relegated to a minor supporting role, if that. Then came shows like "Will & Grace," "Queer as Folk" and "Queer Eye for the Straight Guy." Gay men could finally watch TV and see people that were relatable. Then came the launch of Dekkoo in early 2017, the gay equivalent of Netflix and Hulu, featuring 100% gay content. One of the shows available on Dekkoo is "I'm Fine," now in its second season.
"I'm Fine" follows Nate (Perry Powell) and his group of gay friends as they navigate hook ups, break ups, love and loss in West Hollywood. Setting the series in West Hollywood was a no-brainer for creator Brandon Kirby, who also writes and directs every episode.
"West Hollywood was a specific choice because I wanted to explore the gray area between gay male friendships. For example, if you and your boyfriend live in West Hollywood and break up, you are inevitably going to see this person. The Ven diagram of the circles of West Hollywood all overlap. There's the friend who you didn't know was friends with your ex and will stay friends with your ex. The connections all overlap. Everybody knows someone who knows someone. It's all very incestuous."
Powell agrees that West Hollywood is the perfect microcosm of gay life.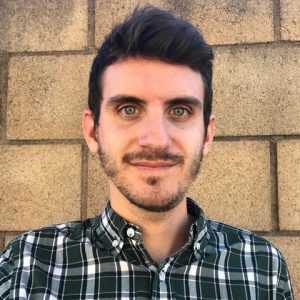 "I feel like West Hollywood has a unique aesthetic about it where men in their twenties are having their second adolescence. They're experiencing some things for the first time like hooking up and breaking up – the Peter Pan syndrome thing. In the web series, the characters will try to help someone out, but then he will self-sabotage. I see that a lot in the culture of West Hollywood.
"You go through this whole period of denying yourself and you come out here and there's just sex everywhere. There's this swipe psychology of Tinder and Grindr. If you don't like what you're having right now, you can just go and get a new one. If you don't want to make an emotional connection, you don't have to. We process that we should be able to have instant gratification in every part of our lives because we were denied for so long. There's a really strange imbalance of emotional immaturity that takes a while to break down for each person."
Many of us who are L.A. transplants can relate to having a second adolescence after the move. Both Kirby and Powell are no exceptions.
Powell explains, "I'm from a town near Jacksonville, Florida. I went to Florence State University for theatre and film production. After graduating, Los Angeles was really the next logical step. I lived in New York for a year and did theatre there. I came to L.A. in 2013 and my intention was to be an artist. I've been chipping away at that for half a decade."
Kirby's background is similar as well. "I'm originally from Michigan from a town outside of Detroit and went to Michigan State. I never thought I'd end up in Los Angeles. I figured I'd end up in Chicago since that's where everyone from MSU went. I moved to L.A. right out of school for an internship for The Hollywood Reporter, so I started my career in journalism. I had a web series before I'm Fine where I sort of got my legs wet. And now I'm here in production which was the goal."
Powell and Kirby met at Outfest while working on a screening of the movie classic, "Clue." Powell was drawn to Kirby's passion project, which was deeply personal to the show's creator.
"The hook up that Nate has in the first episode was based on a hook up I had. I wrote it as a short and showed it to a friend and she said, 'this isn't a short. This is a pilot.' The whole episode about the bad hook up and the bad break up happened to me. A lot of it is drawn from my own experiences or experiences I've seen other friends go through. For example, this season, Lee Dowd, who plays Jeff, and I were having drinks and he said he really wanted to address the whole race issue. It was important for me to expand the second season beyond my own personal reference points."
That second season might not have happened if not for Kirby's excellent stalking skills on social media.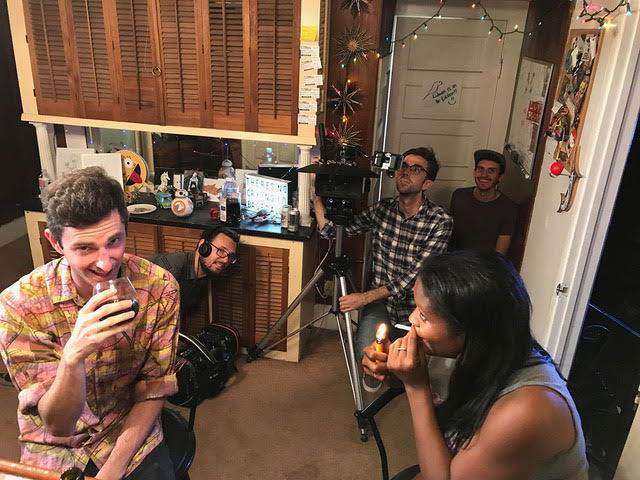 "I had met [someone from] Dekkoo at a mixer. At that point, we had a few episodes on Vimeo and we had a social media page. I saw Dekkoo's page on Instagram. At that time, they hadn't had many posts yet, so I went through and liked every single post so they would notice this weird page liking all of its stuff. After a while, Dekkoo emailed me asking me what this was and it just went from there. I always say I stalked my way into them noticing me."
Perry adds, "After the fourth episode, Dekkoo picked it up and it snowballed into this huge production. It became a much bigger sum of its parts.
Two of the reasons for the show's success could be due to its diversity and relatability. Perry explains, "It's a main cast of really different gay guys. It's still a really novel idea; networks won't want to take that risk. It shouldn't be a risk right now. We're moving into a brave new world with queer representation. For all the kids who are interested in seeing a wide variety of characters who are all gay men, it's pretty interesting. Especially in West Hollywood, you find this superficial filter over everything."
Kirby succinctly breaks it down. "It's an honest look at gay friendships and relationships, but specificity breeds universality. If straight people are watching, they can still relate."
The first two seasons of "I'm Fine" are now available on Dekkoo.