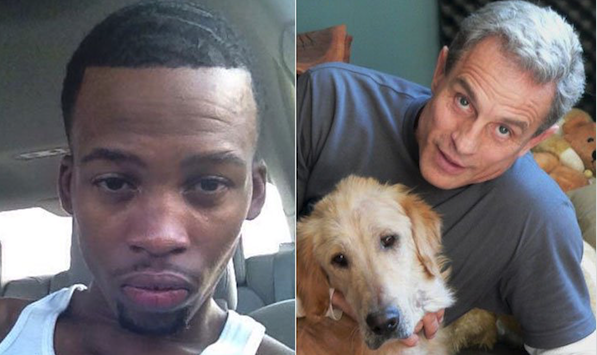 While it has remained a quiet topic in West Hollywood of late, the death of Gemmel Moore is back in the national and international news.
"He gave me my first injection of crystal meth" is the lead-in to the headline of a story on the U.K.'s Daily Mail website, referring to an allegation about Ed Buck, a prominent Democratic Party donor who lives in West Hollywood.
"Justice for Gemmel Moore? Family wants answers in escort's death at Dem donor's home" is the headline on FoxNews.com.
The Daily Mail is the United Kingdom's second most popular newspaper, with 1.4 million subscribers.  FoxNews.com is said to rank in 41 in an analysis of the most heavily trafficked websites in the United States.
The focus of both stories is the progress of the L.A. Sheriff's Department's investigation into the cause of Moore's death. Moore, 26, is an African-American sex worker who was found dead on July 27 in the Laurel Avenue apartment of Buck, a prosperous 64-year-old white man. The L.A. County Coroner's Office ruled the death an accident related to an overdose of methamphetamine, a highly addictive and dangerous drug.
Supporters of Moore and members of his family have complained about the length of the investigation, which began in August. That's when the Sheriff's Department agreed to take a look into the incident after complaints from Moore's family and West Hollywood City Councilmember Lindsey Horvath and L.A. City Councilmember Mike Bonin. Jasmyne Cannick, a a writer and media commentator on political, race and social issues who has worked with Moore's family, has presented evidence from other young black men alleging that Buck paid them to come to his apartment and do drugs and engage in sexual activity.
Fox News interviewed Lt. Joe Mendoza, a spokesman for the Los Angeles County Sheriff's Office homicide bureau, who said "We don't want to move forward with anything else without every single piece of information."
Mendoza noted that investigators "worked with the district attorney's office to give immunity to witnesses for unrelated minor crimes so they can speak freely," which had been demanded by Moore's family and Bonin and Horvath. He said they already have interviewed a number of witnesses and are trying to get access to others who may have had encounters with Buck.
"We're just in a holding pattern until we can get those people interviewed."
Mendoza said the investigators will turn over their findings to the district attorney or perhaps a grand jury once their work is complete.
The Daily Mirror reported on the coroner's report, which said drug-related materials were found in Buck's apartment and focused on statements from Moore's diary, which was found in Buck's apartment and turned over to his family by investigators.
"'I honestly don't know what to do. I've become addicted to drugs and the worst one at that," reads a December 2016 entry in the diary.
'Ed Buck is the one to thank. He gave me my first injection of crystal meth it was very painful, but after all the troubles, I became addicted to the pain and fetish/fantasy.'
'My life is at an alltime [sic] high right now & I mean that from all ways. I ended up back at Buck [sic] house again and got munipulated [sic] into slamming (injecting drugs) again. I even went to the point where I was forced to doing 4 within a 2day [sic] period. This man is crazy and its [sic] sad. Will I ever get help?'
'If it didn't hurt so bad, I'd kill myself, but I'll let Ed Buck do it for now.'"
The Daily Mirror story also focused on Buck's donations to Democratic Party candidates, who include Hillary Clinton, Gov. Jerry Brown, Los Angeles Mayor Eric Garcetti and all members of the West Hollywood City Council except for Horvath.
Advocates for Moore's family have demanded that recipients of donations from Buck give that money to a fund called Justice for 4 Gemmel Moore.
Cannick and Nana Gyamfi, a lawyer also working for Moore's family, stated in a recent press release that "to date Congressmember Karen Bass has returned her money in addition to Democratic attorney and Congressional candidate Bryan Caforio. Stonewall Democratic Club returned some of the money Buck gave to them and West Hollywood Councilmember John D'Amico returned $25 of the thousands he received from Buck."
Supporters of Moore have criticized State Sen. Kevin de León (D-Los Angeles) is being criticized for not giving his donations from Buck to the Justice for Gemmel fund and instead giving the money to a non-profit organization focused on the Sacramento area.
As he has in the past, Ed Buck's attorney denied to Fox and the Daily Mirror that Buck was complicit in Moore's death.
"These are merely accusations. This situation has turned into an attack on Mr. Buck's personal life," Amster told Fox News.