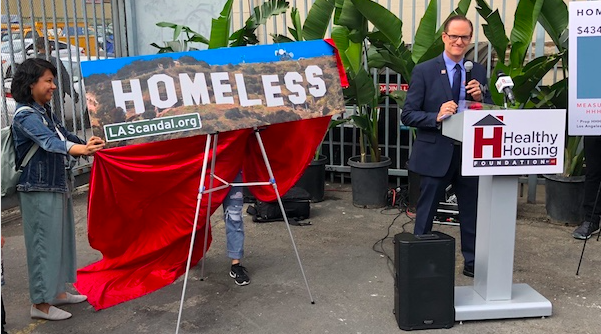 I have spent the better part of 25 years advocating for affordable housing. Way back when, before I started my campaign, I had developed an addiction to cocaine, my way of dealing with the emotional and physical pain of losing my first lover and countless friends on the East Coast and in Northern California. I went from one of the nicest places I have ever lived in Santa Monica to living on the streets for three months.
Initially, since I still had money to burn through and a car, life didn't seem so bad. It got worse, much worse. This was in the 80's, and there were several communities in the beach area that offered what seemed to be a comfortable life on the streets. It was almost like reading a travel brochure: "Come to sunny California, where sleeping outside under the stars is legal, the warm sea breezes blow, and the price is low. No more bundling up on the subway grates, and the city provides warm showers, clean clothes, and drugs are right at your doorstep."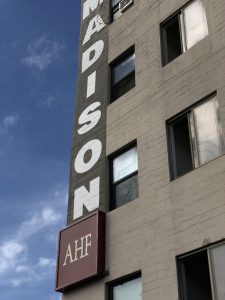 I was lost and scared and too embarrassed to ask for help. I learned that fear and shame are the two things that no one wanted to think about, and the longer one stayed on the streets, the less anyone wanted to hear about an alternative. How I didn't end up in jail, I don't know. Jail was just something that happened to everyone else, and it wasn't a big deal to them. That didn't work for me thank God – so I did the impossible and called for help.
It's not like that today, L.A.'s 50-square-block Skid Row is a disaster bearing the edifices of various attempts to start to solve a homeless problem that is totally out of control. Over 25,000 people sleep, butt-to-elbow, in and out of the tents that line the sidewalks on too many of these blocks. Despite initiatives by L.A. County's Housing and Health program, headquartered in the Star Housing building on 5th Street and the Weingarten Center, all anyone is doing is planning and having meetings and planning some more. L.A. Mayor Garcetti has announced money here and initiatives there, but nothing is really attacking this issue at a meaningful scale.
Enter AIDS Healthcare Foundation (AHF), the provider that everyone loves to hate, with it Healthy Housing Foundation. In short order, and with no government funding, AHF bought and has begun to renovate the 222-room Madison Hotel on 7th Street, and I attended an event on Wednesday celebrating that. Now, make no mistake, I have had my issues with AHF from time to time, and I tend to cast a suspicious eye on everything it does in L.A., but I have to hand it to them. AHF took action, something we need a lot more of.
According to its figures, while the City of Los Angeles is claiming that affordable housing costs over $400,000 a unit to develop, the per-unit cost at the Madison, including the building purchase price, was $37,000. Granted, these are single-room units (SROs), and while they are nothing fancy, they have new beds, they have been newly painted, and the building, still under renovation, is being brought up to the Americans with Disabilities Act (ADA) compliance codes. These beds are for anyone needing a safe, clean home, regardless of where he or she is in Los Angeles. As of the grand opening on Wednesday there were 50 rooms ready for occupancy.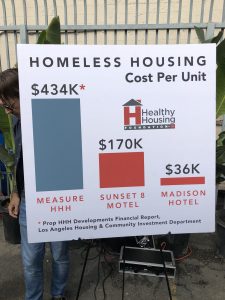 Along with this property, AHF has purchased the 27-room Sunset 8 motel on Sunset Boulevard in Hollywood. I can state, based on personal experience, that this was part of the circuit of "crack hotels" in Hollywood. It is farther along in its modernization than the Madison. These are larger units, and this was a total gut and rebuild. The motel was redone for approximately $130,000 per unit, still way lower than the city's estimate of over $400,000 to build a unit to house the homeless. AHF also is developing a larger building from the ground up in Fort Lauderdale, Fla.
At the Madison's opening ceremony on Wednesday, I spoke with Samantha Granberry, the executive director of the AHF's Healthy Housing Foundation. What a dynamo! Her positive "can do" attitude was infectious, and her openness to suggestions and comments was encouraging. Everyone I met on Wednesday who is involved in this project shared her qualities. If this is emblematic of the caliber and drive of those who are running the show, I think that it is time we start forming partnerships and thinking about getting people off the streets regardless of historic disagreements and legacy battles and welcome a new provider that has the critical mass and resources to get things done.
Let's get real here, L.A.'s homeless problem (and that of West Hollywood) is getting worse, not better. The distinction of having more people on our streets and beaches than any other city in America is not one to be proud of. Sure, it is important that every stakeholder's needs are met, but we need to start somewhere. I know how important an address is to development of the self-esteem required to start the process of recovery from homelessness. While facilities like the Madison do not solve the homeless problem by themselves, they are a crucial first step to getting people that essential "step-up." They show everyone on the streets that there are safe, clean places and people who care about helping them, right around the corner.
Personally, I do not want to get involved in the politics, as my history has been, and will always be ,to speak my mind and follow my own conscience. There was that air of "tit for tat" when AHF's Michael Weinstein revealed its new "Homeless" billboard campaign (a take on the "Hollywood" sign.") That is simply not my business. But what is my business, and what I have been advocating for, is a viable alternative to living on the streets as I watch those who are most vulnerable in America end up infected with HIV and Hep C and have their lives changed for the worse.
What about it West Hollywood? Don't we have a couple of cheap motels that could be put to better use?