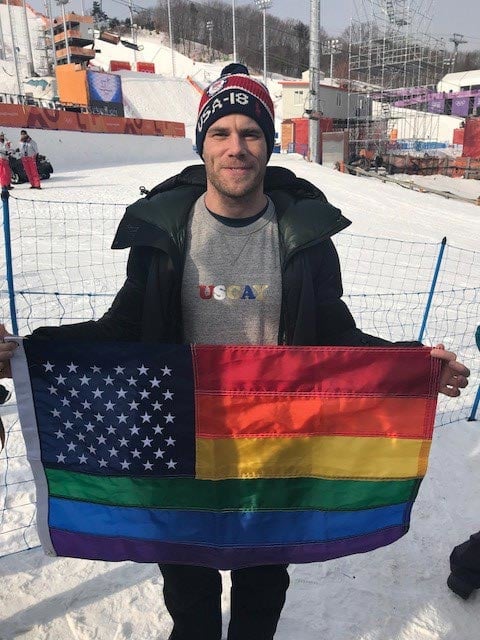 If you have been an avid follower of the Winter Olympics you might have seen skier Gus Kenworthy and his boyfriend, Matthew Wilkas, holding the rainbow flag as they cheered on Adam Rippon, another out gay Olympian, at the men's free skate on Saturday. And on Sunday morning (Korean time) you may have noticed Wilkas displaying that same flag at Kenworthy's ski slopestyle event.
And where did that flag come from? From the gayest city on earth's gayest store on earth. That would be West Hollywood's The Block Party.
Wilkas said he bought the flag, which combines the traditional rainbow flag with the 50-star square on the American flag, for $60 from a store in West Hollywood.
"We wanted to have an American-slash-pride flag just because of the Olympics and Gus and Adam representing the gay community and the U.S.," Wilkas told NBC. "It was a great combo."
WEHOville reached out to Larry Block, owner of The Block Party, who confirmed that the flag looked like it was from his stock of nylon flags. A close look at the stitching convinced Block, an expert in the gay apparel market, that it had been made in the United States. Then Block mentioned the flag to one of his sales associates, Miguel Ramos, who actually remembered having sold it.
"I didn't know who he was," Ramos said. "He told me he was taking it to the Olympics."
Blocks said the flag Wilkas bought was priced at $49.99 and that there are more in smaller and larger sizes still in stock.
Kenworthy failed to score the silver medal that he had won skiing in the 2016 Olympics in Sochi. But this year he won the applause and pride of people around the world when he and Wilkas were captured by an NBC camera sharing a kiss before Sunday's ski slopestyle qualifying event.
"That's something that I wanted at the last Olympics was to share a kiss with my boyfriend at the bottom, and it was something that I was too scared to do for myself, Kenworthy said in an interview with the Guardian. "And so to be able to do that, to give him a kiss, to have that affection broadcasted for the world is incredible."
The 26-year-old athlete, a native of Britain and now a resident of Colorado, first revealed that he was gay in October 2015, the month that he and Wilkes went on their first date.