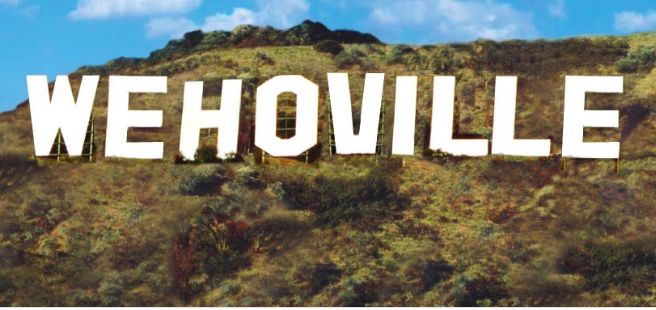 Welcome to the new WEHOville.
When we launched this news site in the Fall of 2012 we had a miniscule readership and a somewhat fuzzy focus. Since then we have grown, with a phenomenal 194,000 people visiting WEHOville in the past three months (according to Google Analytics). And we have sharpened our focus (no more rock music reviews or restaurant reviews) to concentrate on what West Hollywood residents need and want to know (and to satisfy the curiosity of those in neighboring communities and around the country who are as fascinated by WeHo as we are). Our mission was, and remains, to foster civic engagement, which can only be done by providing news without fear or favor and providing a platform on which to discuss it.
We are proud of the work we've done to reveal who is funding the election campaigns of City Council members and their challengers. That took hiring outsiders to convert the paper campaign finance contribution reports to digital files, and then staying awake for hours on end to research the actual identities of the donors. That college student in New York City who gave the maximum $500 donation to one incumbent? She was the daughter of a real estate developer whose project needed the City Council's approval. That "homemaker" in Utah whose seeming passion for WeHo inspired her to make a major donation? She was a human resources executive with a billboard company that had a lucrative stake in West Hollywood. A quick sort of all that data proved what we all expected — for the most part it was out-of-town real estate interests that funded West Hollywood elections
Then there was our revelation of the scandal at City Hall that came to be known as Deputygate. As a result of our coverage, the West Hollywood City Council eliminated a 30-year-old deputy system that was expensive and unparalleled for a city the size of ours and that had been festering with problems from the start. Some of you were happy to see the system go. Others of you were not. But I hope all of you appreciated finding out what really was happening on the fourth floor of City Hall.
A few more examples: Our reporting on the money City Council candidates took from the developers of the 8899 Beverly project, which resulted in the Council's approval of that developer's plan to almost double the size of a building that already was twice the size permitted for its location. Our reporting of statistics from the Los Angeles County Sheriff's Department that contradicted that slogan that West Hollywood is one of the "safest places to live, work and play." Our disclosure that a local nonprofit's work was funded by a man under indictment by the federal government for laundering money from Mexican gangs, including the Sinaloa drug cartel. And there have been, and will be, many more.
Why the Redesign?
This redesign, which required the exceptional coding skills of Edward Jenkins of codeWrangler, is intended to make WEHOville easier to navigate on your laptop or your iPad and especially on your mobile phone, which data shows that more and more of you use to read our news. We also have rearranged the presentation of news on our homepage to make it easier to find by subject matter.
Today we also are implementing a subscription plan in the hope that you will use it to support WEHOville and help us realize our ambition to expand and deepen our coverage of West Hollywood and nearby communities. The list of projects we want to undertake is long and includes answering the question: "Who owns WeHo?" That will require in-depth research into the many thousands of limited liability corporations and other people and entities who control the real estate of this city. Given that 78% of West Hollywood residents are renters, we also want to discover and identify those landlords who are the source of the most complaints from tenants, who often fear being pushed out of their rent-stabilized homes.
We want to continue our monitoring of the work of nonprofits such as Christopher Street West, producer of the annual L.A. Pride events, which benefit from substantial city support. And of course we want to keep a close eye on the money flowing to our City Council members and their challengers in upcoming elections.
Stretching the Boundaries of Our Coverage
We also want to stretch the boundaries of our coverage, given the impact of development and crime south of the city on West Hollywood residents and the potential impact on WeHo of major development east of La Brea Avenue. Beverly Hills also has an impact on West Hollywood, given that it supplies water to many residents and businesses (at a significant price markup) and its work on Santa Monica Boulevard affects our traffic. So does development on those parts of Sunset Boulevard just outside our borders, where projects such as 8150 Sunset are in the works. That will require attending meetings in other municipalities and also county committees and digging deep into what influences the decision making there.
Helping Us Provide the News You Need
Our subscription program is an approach being taken by more and more hyperlocal news organizations such as WEHOville to provide the revenue we need to sustain our coverage at a time when legitimate news coverage is rare and hard to find.
However, we don't want to exclude any of our readers from access to WEHOville's reporting and the great work of freelance and opinion contributors such as Carlton Cronin, David Warren, James Mills and David Hakimi. That means that whether or not you are a subscriber, you will be able to read the news and engage in the debates about civic issues on WEHOville.com.
But if you are willing to pay the modest subscription fee of $4.99 a month (which would be $3.99 a month for a six-month subscription and $2.99 a month for a 12-month subscription), you will receive alerts every time we post a new story as well as our weekly "In Case You Missed It" (ICYMI) newsletter. That newsletter's content will expand to also call out stories published elsewhere that touch on issues that matter to West Hollywood. And if you want to help educate your friends and neighbors about the issues our creative city faces, please consider purchasing subscriptions in their names.
Every little bit helps in the world of hyperlocal news, a world I entered because it is a passion, not a money maker. As I tell my friends from childhood, I have never worked harder and made less money in my adult life. But then I've never done anything I have loved more than publishing WEHOville. In my book, love always beats money.
Please feel free to email me directly with questions, suggestions and observations about our changes and plans. You can reach me at Henry@WEHOville.com. And I welcome criticism even more than praise – it's only with criticism that we can improve.