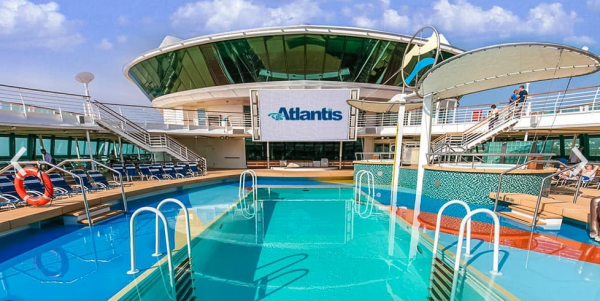 The U.S. Justice Department today reached a settlement with Atlantis Events Inc., a gay cruise and resort vacation company with offices in West Hollywood, to ensure that customers who are deaf or hard of hearing are provided effective communication when traveling with the company.
The settlement agreement resolves complaints under the Americans with Disabilities Act in which individuals who are deaf alleged that Atlantis failed to provide them with effective communication on a cruise. Atlantis — which buys and resells cabins on cruise ships and rooms at resorts — cooperated with the Justice Department throughout the investigation, federal prosecutors said.
A message requesting comment left with an Atlantis representative was not immediately answered.
Atlantis currently is embroiled in a controversy over the Jan. 22 death of Joel Taylor, 38, a star of Discovery's "Storm Chaser" reality TV series, of an apparent overdose of GHB  while on an Atlantis cruise. Taylor collapsed on a dance floor and was carried to his cabin, where he died. "We're told there were huge quantities of party drugs on board the ship, including cocaine, Ecstasy and GHB," reported TMZ, the celebrity gossip channel, saying such drugs were "flowing freely" among the partygoers.
Atlantis, which is based at 9200 Sunset Blvd. in West Hollywood and headed by Rich Campbell, has been accused of not taking steps to curb what some describe as a drug using culture on its gay cruises.
In November 2011, West Hollywood resident Barry Krumholz was arrested on an Atlantis Caribbean cruise and charged with dealing drugs while on the cruise. Krumholz pleaded guilty to the charge. The Associated Press, citing an affidavit filed as part of the charges against Krumholz, reported that ""Agents searched Krumholz's cabin and allegedly found more than 142 ecstasy pills, nearly 3 grams of methamphetamine, a small
Under today's agreement with the Justice Department, Atlantis will ensure that interpreters, transcription services, written exchanges, assistive listening devices, captioning or other auxiliary aids and services are provided to individuals with hearing disabilities free of charge when necessary for effective communication. The company also agreed to designate an ADA liaison on every cruise to respond to disability-related requests from passengers.
In addition, Atlantis will pay a civil penalty of $10,000 to the U.S. government and $9,000 in damages to the complainants, according to the settlement.
"The ADA guarantees people with disabilities equal access to public accommodations, including communications access," said acting Assistant Attorney General John Gore of the Civil Rights Division. "People with disabilities who are deaf or hard of hearing must be given the opportunity to fully participate on cruises and at resorts, and enjoy the services and activities a vacation company offers."
U.S. Attorney Nicola T. Hanna said that those with disabilities, including those who are deaf or hard of hearing, have a right under federal law "to the equal enjoyment of the services that travel companies provide to the public."
"Atlantis is to be complimented for acknowledging its obligations under the Americans with Disabilities Act, and agreeing to implement policies and practices to ensure equal access and effective communication," Hanna said.