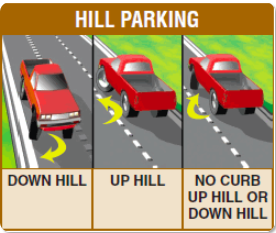 What West Hollywood resident hasn't gotten one of those $23 tickets for failing to turn the wheels of his or her car when parking on a sloped street?
Now the risk will be a bit lower with a decision by the City Council to require such positioning of a car's front wheels only on streets with a grade of 7.5% or more. Previously, wheels had to be turned on streets with grades of 6% or more.
How does one turn those wheels? The city municipal codes says "an operator shall not park a vehicle upon any grade of six percent or more (now 7.5%) within any business or residential district without turning the wheels of the vehicle toward the curb while parked facing downhill and turning the wheels of the vehicle away from the curb while the vehicle is parked facing an uphill grade."
Streets that no longer will require such wheel turns after March 5 are as follows (but note, the law will be enforced until then):
Doheny Drive (S)
Doheny Drive (N)
Hacienda Place
Hammond Street (N)
Hammond Street (S)
Hancock Avenue
Harper Avenue
Hilldale Avenue
Larrabee Street
North Flores Street
North Kings Road
North Olive Drive
Palm Avenue
San Vicente Boulevard
Westbourne Drive
Westmount (S)
CORRECTION: An earlier version of this story, relying on an attachment to the City Council agenda, said that cars parking on all of the streets listed below  no longer would be required to turn their wheels.  In fact, the change applies only to portions of those streets, which will be indicated by signs on the streets.  The story has been corrected to reflect that.