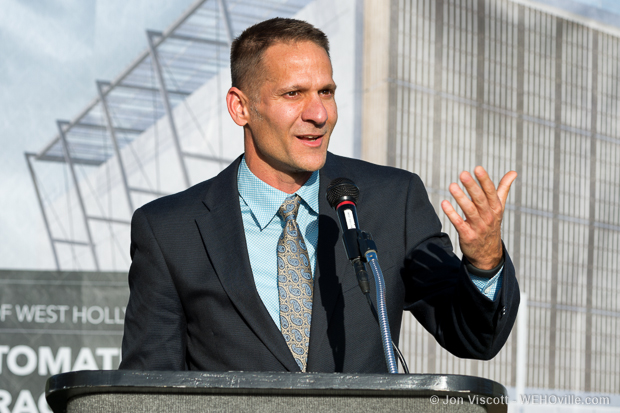 West Hollywood City Councilmember John D'Amico today announced that he is seeking re-election in March 2019.
"… Because of my love for WEHO and my hope to continue to do good work, I have decided to run for re-election in the March 2019 election. To bring more of the life we love to WEHO. More life, on our terms.
"This comes after much thought and discussion with Keith (Rand, D'Amico's husband) at home and many, many community members who have asked me to continue serving. I appreciate their request and enthusiasm and do promise to continue to work every day to help our residents and engage in the kind of city-making that made West Hollywood what it is today."
D'Amico was first elected to the Council in 2011 on a campaign that focused on shaking up the establishment. That establishment was a group of long serving council members including Mayor John Heilman, who has been on the Council since the city's incorporation in 1984, including former council members Abby Land and Jeffrey Prang, and current Councilmember John Duran.
D'Amico, a resident of West Hollywood for more than 25 years, has served on various city advisory board and commissions, with the Planning Commission the most notable position.
He was re-elected in 2015 in a campaign for three Council seats that continued to shake up the establishment. D'Amico led that race with 18% of the vote, followed by challenger Lauren Meister, with 17% and Lindsey Horvath, with 16%. Heilman lost with 16% of the vote. However, Heilman was back on the Council in June of that year, winning a special election to fill the seat of Prang, who left the Council to become L.A. County Assessor.
During his tenure D'Amico has surprised some of his most avid supporters which shifts in his positions on some issues. Perhaps the biggest surprise was his announcement in January of last year that he was endorsing Heilman and Duran for re-election. Early in his first term, D'Amico's relationship with Heilman was so acrimonious that the two council members were called out for refusing to shake one another's hands. D'Amico also had angered Duran by calling him out at a Council meeting for viewing Grindr, the gay sex hookup app, while sitting on the dais during Council meetings. "For years I have glanced over and seen John trolling on Grindr for men," D'Amico said. "I can no longer agree to believe that we can give John Duran a pass."
In endorsing the incumbents, D'Amico called out the turmoil created by the election of Donald Trump as president and what he said was a need to stability. "I have a history of endorsing outsiders," D'Amico said, "and yet I have been thoughtful in considering this election, and I decided to endorse John and John."
"I just see that John Duran's eloquence and speaking up for people and keeping alive the history of our people and what matters to them is unmatched," D'Amico said. "John Heilman's deep history with elected and appointed officials across the city at all levels of government is unparalleled."
D'Amico, whose initial election campaign focused on the need for new faces on the City Council, has said numerous time that he would not seek a second term, joking that "Keith would kill me" if he did in a reference to his husband.
In an email announcement this morning of his plans to run for re-election, D'Amico said:
"There are many important reasons to run for another term:
"Be a part of the completion of the West Hollywood Park Project, the new pool and recreation center and the AIDS Monument,
"See the completion of the Smart City, Carbon Neutrality and Sustainable Building ordinances that I initiated since joining the council,
"Keep our social services targeted to our most vulnerable residents who need a caring hand,
"Continue to pursue a housing affordability plan, rent control expansion and new development matrix that keeps our city affordable for another 50 years, and
"Put our city on track to get Metro rail, be part of the 2028 Los Angeles Summer Olympic Arts and Sports Celebrations and continue the long standing cultural excellence that has been a hallmark of the West Hollywood identity.
"There is a lot of work to do. And I am excited to do it. And Washington D.C. isn't helping us with any of our priorities: solving the affordability crisis, helping with the needs of seniors, stopping climate change, protecting the environment, spreading of civil rights and the protection of a woman's right to choose. But our city is the little engine that could and we keep chugging along making our way."
D'Amico's is one of three seats up for re-election on March 4, 2019. Incumbent Lauren Meister already has announced that she will seek re-election, and incumbent Lindsey Horvath is expected to.
Two challengers have requested the required paperwork to file for a campaign are James Duke Mason and Timothy Williams.  Tom deMille,  who has run in a previous election, has announced that he will run again.