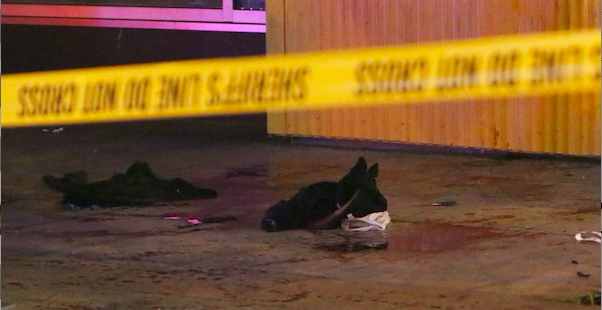 A man was fatally stabbed to death early this morning near the northwest corner of Santa Monica Boulevard and La Brea Avenue.
The attack occurred a little before 1:15 a.m., said Deputy Wally Bracks of the Los Angeles Sheriff's Information Bureau.
Detectives at the crime scene said the man appeared to have been stabbed after an altercation near the McDonalds at 1133 N. La Brea Ave. on La Brea Avenue just north of Santa Monica.
"Investigators learned that there was a verbal argument between the victim and an unknown person," Bracks said. "The verbal argument escalated into a physical altercation. During the altercation, the victim was stabbed at least one time on his upper body."
Someone at the scene later this morning told WEHOville that there was a blood trail from La Brea around the corner to Santa Monica Boulevard, and a pool of blood just outside the bus stop on the north west corner of Santa Monica and La Brea.
The man was found on the sidewalk behind that bus stop, which is in in front of The Dylan apartment building at 7111 Santa Monica Blvd.
Paramedics rushed the man to the hospital, where he was later pronounced dead, Bracks said. The suspect fled on foot in an unknown direction and the murder weapon has not been recovered.
Sheriff's homicide detectives ask anyone with information regarding the stabbing to call them at (323) 890-5500.
The sidewalk surrounding The Dylan has been closed temporarily to pedestrian traffic for an investigation.