The stabbing death Sunday of a man near the northwest corner of Santa Monica Boulevard and La Brea Avenue has prompted complaints from area residents and a promise by the West Hollywood Sheriff's Station to step up patrols in the area.
One of those residents, Stephanie Harker, emailed West Hollywood City Council members and City Manager Paul Arevalo today to ask that they do something about what she described as "the rampant and rapidly increasing crime."
Harker included in her email images of homeless people sleeping on the streets and of blood on the sidewalk where the as-yet-unidentified man was stabbed in the early hours of Sunday morning.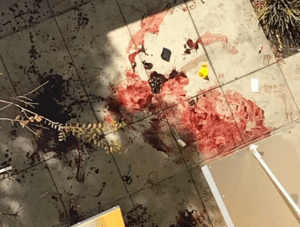 "This is our situation pictured below and it is getting worse, not better," Harker said.
"On any given day I could easily take pictures of used syringes, used condoms, human excrement, drug deals in process and transients sprawled out on the pavement or in encampments, that move back and forth across the city line on Romaine to avoid whichever law enforce team shows up. It is a crisis."
Councilmember John D'Amico responded to Harker and shared an email from Capt. Sergio Aloma of the WeHo Sheriff's Station:
"In light of yesterday's tragedy and the fact that the suspect is still at-large, I will be meeting today with station command staff and others to discuss our plans on increased patrols of the east end (patrol personnel have already been directed to conduct increased patrols there). We know, residents have long been concerned about crime there. With yesterday's murder I suspect there will be a new call for an increased law enforcement presence.
"The COPPS (Community Oriented Policing and Problem Solving) and EPT (Entertainment Policing Team) teams will be tasked with coming up with strategies to address crime there. We will focus on bike patrols, foot beats and saturation patrols to augment regular patrols. Additionally, we will begin directing our training cars to conduct and log foot patrols there. "
Aloma said he had been in contact with the Sheriff's Department's Homicide Bureau where detectives are ""cautiously optimistic regarding the evidence they have developed already and their odds of solving this crime."
It is not clear the man who was stabbed or his attacker were homeless.
Detectives at the crime scene on Sunday morning said the man appeared to have been stabbed after an altercation near the McDonalds at 1133 N. La Brea Ave. just north of Santa Monica.
"Investigators learned that there was a verbal argument between the victim and an unknown person," Bracks said. "The verbal argument escalated into a physical altercation. During the altercation, the victim was stabbed at least one time on his upper body."
Someone at the scene later this morning told WEHOville that there was a blood trail from La Brea around the corner to Santa Monica Boulevard, and a pool of blood just outside the bus stop on the north west corner of Santa Monica and La Brea.
The man was found on the sidewalk behind that bus stop, which is in in front of The Dylan apartment building at 7111 Santa Monica Blvd.
Paramedics rushed the man to the hospital, where he was later pronounced dead, Bracks said. The suspect fled on foot in an unknown direction and the murder weapon has not been recovered.
Sheriff's homicide detectives have asked that anyone with information regarding the stabbing to call them at (323) 890-5500.