A half dozen people turned out to march outside the West Hollywood City Council Chambers last night with signs declaring their support for home-sharing. But an overwhelming majority of the speakers inside the Council Chambers pressed the City Council to take a second and final vote to approve an ordinance that bans short-term rentals of apartments.
The Council voted three to two in favor of the ban. The ordinance makes it legal only for home owners and condo owners to rent out a portion of their homes for travelers or tourists. Even then, the owners must be at the home at least four hours a day, and condo owners must have the approval of their homeowners association.
Airbnb, the nation's leading home sharing platform, issued a statement opposing the Council's decision shortly after the vote.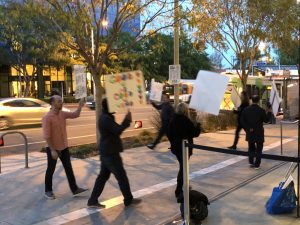 "While a step away from a home sharing ban, the policy approved by the City Council tonight discriminates against a significant portion of the residents of West Hollywood and is out of touch with how the vast majority of cities have approached regulating short term rentals," said the statement by Connie Llanos, Airbnb's deputy policy manager for Southern California.
"The Council's decision to block renters — who make up nearly 80% of the community — eliminates a viable source of income for those who would benefit the most. Home sharing should not be a privilege reserved for the fortunate few who own homes in West Hollywood. On behalf of the hosts of West Hollywood, we will continue to advocate for a solution that ensures a fair and reasonable balance between home sharing and the needs of the community."
Those who voted for the ban, Mayor John Heilman and Councilmembers Lindsey Horvath and Lauren Meister, have expressed concern that permitting short-term rentals would have a negative impact on West Hollywood's already over-priced apartment rental market. Several local residents who spoke before the Council last night described situations in which landlords forced tenants out of rent-stabilized apartment units so that they could engage in more lucrative rentals to tourists.
On the other hand, several residents told the Council that they depended being able to rent out a spare bedroom in order to pay their rent. Also, Janet Gagnon, a representative of the Apartment Association of Greater Los Angeles, spoke in favor of allowing such short-term rentals so long as the owner of the apartment building approved them.
Councilmember John Duran, who with fellow Councilmember John D'Amico opposed the ordinance, said the city was giving an opportunity to those who own $1 million houses and $600,000 condos while denying that to lower-income renters.
"I think what we're going to see next is an unregulated black market," Duran said. "While we think we may have solved one problem, we many find unanticipated consequences."
Duran said he hoped that the Council eventually would agree to allow home-sharing in non-rent stabilized apartments.
The City of West Hollywood already had banned rentals of housing for 30 or fewer days, effectively blocking users of Airbnb, VRBO and similar home-sharing platforms. But it decided to take another look at the ban given concerns about the difficulty of enforcing it and objections by some residents.