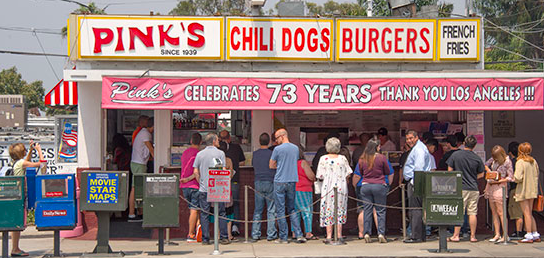 Pink's Hot Dogs has been on the northwest corner of La Brea and Melrose avenues for 77 years, an intersection that soon may be named "Pink's Square." A Los Angeles City Council committee Wednesday approved a motion introduced by Councilman Paul Koretz to give Pink's that honor.
Pink's got its start on that location in 1939, when Paul and Betty Pink borrowed $50 to purchase a hot dog cart. Eight years later the brick and mortar version of Pink's opened.  Paul and Betty Pink retired in 1985. Today Pink's, along with 15 other sister hot dog shops in Southern California, Las Vegas and Ohio, is operated by Paul and Betty's children, Richard and Beverly, and Richard's wife, Gloria.  The hot dog stand that started with four employees now is a business with a staff of about 30 employees. .
The restaurant is well-known to residents of and visitors to Greater West Hollywood, with long lines often stretching around the block and a wall filled with autographed pictures of the celebrities who have eaten there.
"Back in the day they ranged from Orson Welles to Marlon Brando to Michael Jackson," Pink's says on its website. "Today Pink's serves personalities such as Jay Leno, Craig Ferguson, Steve Martin, Betty White, Martha Stewart, Aretha Franklin and Guy Fieri — and is visited by celebrity chefs such as Bobby Flay, Giada De Laurentiis and Emeril Lagasse."
Pink's is also known for its menu items named after its celebrity customers, including the Martha Stewart Dog — relish, onions, bacon, chopped tomatoes, sauerkraut and sour cream — and the Huell Howser dog — two dogs in one bun with mustard, chili, cheese and onion.
"To date, the family has created over 35 combinations of hot dogs and a dozen variety of hamburgers to satisfy the varied taste of its patrons," Koretz's motion states.