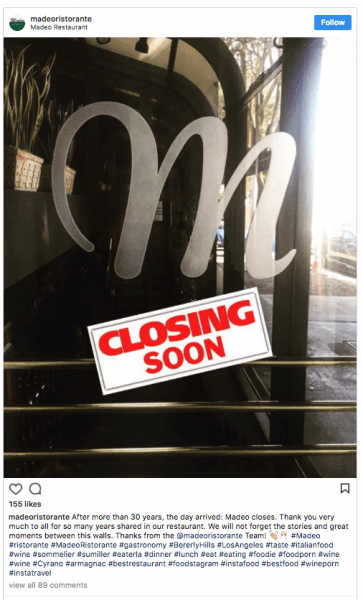 UPDATE: Alison Martino, the creator of Vintage Los Angeles and an expert on the 50's and 60's cultural history of Hollywood and West Hollywood, tells WEHOville that Madeo's move to Camden Drive in Beverly Hills is temporary. Martino said Madeo's lease for the Camden location is only for a year. It's expected that it will return to the 8899 Beverly Blvd. then, when the redevelopment of that property is mostly finished. Madeo's temporary relocation to Camden Drive is quite appropriate, given that it will be in what once was the site of an Italian restaurant called Doma, which before that was Prego.
Madeo, a restaurant known for its classic Italian menu, its "A-list" diners and what one reviewer described as a "shiny, vaguely disco-era décor," is closing on Saturday.
The closing, first reported by Eater LA, comes ahead of controversial plans to expand and redevelop the building at 8899 Beverly Blvd. that has housed it for 30 years.
According to Eater LA, Madeo will quickly move to a new location on Camden Drive in Beverly Hills near Mr. Chow, the upscale Chinese and close to Lisa Vanderpump's Villa Blanca.
Beverly Blvd. Associates, a partnership of Townscape Partners and the Angelo Gordon Group, bought the office building several years ago with plans to convert it into expensive condominiums. The plans required approval by the City Council because Townscape wanted to almost double the size of the 10-story 8899 Beverly building, built in 1962, which already was much larger than permitted by zoning for the area.
As part of its package of benefits to the city for approving the conversion, Beverly Blvd. Associates agreed to spend $1.25 million to renovate Madeo, with that expense including compensating the owners for lost business while the restaurant is closed and paying Madeo employees during that time.
In 2015, the City Council approved the project in a three-to-two vote, with opposition from council members John D'Amico and Lauren Meister. D'Amico called out the approval of the project as a result of the fact that Townscape "invested hundreds of thousands of dollars in the makeup of this Council." Townscape and its managing partners were among the largest contributors in th 2013 City Council election, giving money not only to individual candidates but to independent campaign expenditure committees that supported John Heilman and to an unsuccessful campaign to fight a limit on City Council members terms. Townscape also has been a donor to John Duran's election campaigns.