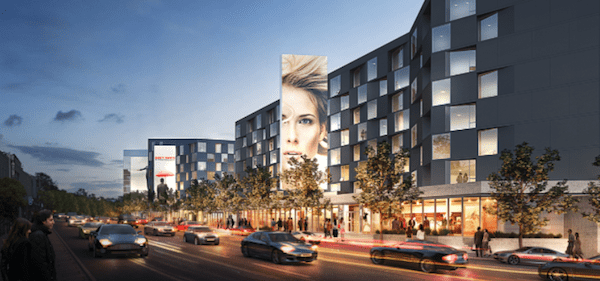 Korman Communities, operator of the luxury AKA extended-stay hotels, is appealing a decision by the City of West Hollywood that it is violating the law by renting rooms in the eight-story west tower of at 8500 Sunset Blvd. for short-term corporate stays.
The appeal will be heard next Thursday by the West Hollywood Planning Commission and has drawn objections from a number of local hotel owners and operators.
John Keho, the city's interim director of planning and development services, issued a ruling in November of last year that Korman was using the 110 units for "temporary lodging," effectively making it a hotel. Those units, part of a project by the CIM Group, initially were intended to be condominiums, as were the 80 units in the adjacent east tower.
When Korman and the Brookfield Properties Group bought the east and west towers from CIM last summer, they announced that all 190 units would be used for short-term corporate rentals. Korman operates 11 other luxury short-term rental properties, including one in Beverly Hills. Korman quickly backtracked on that plan when it discovered that city law bans such short-term corporate rentals in West Hollywood. On July 10 of last year, Korman announced that it would lease the 80 units in the east tower as unfurnished apartments with a minimum one-year lease and rent the furnished 110 units in the west tower for stays of 30 or more days — an apparent effort to avoid violating the city law against short-term rentals. Those rentals began in January. Currently, rents for a 31-day stay range from $270 a night ($8,370 for 31 days) for a "studio," which is a fully furnished, one-bedroom unit with a kitchen, to $650 a night ($20,150 for 31 days) for a "two bedroom premium suite." That 1,260-square-foot unit includes a kitchen along with a washer and dryer and two "spa-like baths."
Research by the city's Planning and Development Services Department turned up evidence online that AKA was promoting the West Hollywood building as a hotel and that websites offered users an option to "reserve" a unit, a term typically use to make a hotel room reservation. In a report to the Planning Commission, the department also noted that information found online promotes the building as "a smart way to travel for two weeks or longer" and says the rooms can be rented online at the AKA West Hollywood website, https://www.stayaka.com/aka-west-hollywood. Such online rentals are not typical for apartments, where a tenant usually has to go through a more rigorous application process, including a credit check. The AKA West Hollywood website currently does not accept reservations for stays of fewer than 31 days.
That and other evidence led to KeHo's decision that Korman was operating a hotel and not necessarily renting the units for long term stays. City officials speaking off the record also have noted that a rental of 31 days or more can be cancelled by the renter after a shorter stay, effectively making the unit a short-term rental. Keho's decision was that Korman is in violation of the development agreement that CIM Group had reached with the city and the required environmental impact statement, which didn't anticipate short-term rentals.
The Planning Commission has received emails and letters from managers of most of its major hotels supporting Keho's decision and asking that Korman's appeal be denied. Those hotels include the Ramada Plaza Hotel, the London West Hollywood, the Chamberlain West Hollywood, Le Montrose Suite, Petit Ermitage, the Andaz West Hollywood, the Jeremy, the Mondrian LA, the Standard Hollywood and the Sunset Marquis.
"The city has more than 1,000 new hotel rooms that have either opened, are under construction or in planning, more than doubling the current inventory of rooms and more new hotel rooms are being opened in Los Angeles than in any other city in the United States," said Rod Gruendyke, vice president of the Sunset Marquis. "Aside from the clear legal impediments of their strategy, AKA should not be permitted to shift the balance in the city from residential to transient use for a brand new residential project they purchased knowing full well both the the permitted (and unpermitted) uses for the site."
Norbert Relecker, the general manager of the Mondrian and chair of the Visit West Hollywood board of directors, noted that the REV Par index (revenue per available room) for area hotels has declined 5.7% compared to that in neighboring communities. "We do not need to place more strain on the hotel economy than there is already," Relecker said. "Our Visit West Hollywood organization is working hard on marketing our area and promote what we have to offer."
In a letter last Fall contesting the city's decision, Korman's lawyer William Delvac, argued that AKA is not using the building as a hotel, saying that hotels have an average stay of three to four days compared to the minimum 31-day lease at the AKA building. He also argued that the average hotel room is 350 square feet, while the apartments at 8500 Sunset average over 1,000 square feet and that nothing in the city's zoning code actually requires a rental agreement of more than 31 days.
The Planning Commission will consider the appeal on Thursday at its meeting at 6:30 p.m. at the City Council Chambers, 625 N. San Vicente Blvd.