Pop star Kehlani and Tove Lo are confirmed as headliners for this year's L.A. Pride Festival.
The festival takes place June 9 through 10 and includes the annual L.A. Pride parade down West Hollywood's Santa Monica Boulevard. Produced by Christopher Street West, a non-profit organization, it is Southern California's largest Pride event. This year's theme is Just Be, promoted with the #JustBe hashtag and an allusion to the importance of being one's self.
"The annual LA Pride Festival and Parade will be the climax of a week's worth of vibrant celebrations across Los Angeles that honor our community's heritage, salute those who have fought for our rights, and embrace the richness of our amazing city's diverse LGBTQ+ community," said Gregory Alexander, a board member of Christopher Street West and the programming lead  for the festival. "Kehlani and Tove Lo are two of the most daring women in music today."
Kehlani represents triumph over tragedy and diversity in many ways. She was born in Oakland to an African-American father and a mother she has described as "mostly white, Spanish and Native American. Her mother struggled with drug addiction and was in prison. Her father, also a drug addict, died young. Kehlani was raised by her grandmother.
At the young age of 14, Kehlani was recruited to join PopLyfe, a local pop cover band. Kehlani left the band after a fallout with its management and struggled for years, stealing food from grocery stores and sleeping on friends' couches. But Nick Cannon, a former host of America's Got Talent, on which Kehlani performed with PopLyfe, rescued her. He found her an apartment in Los Angeles and also sent her to New York to work with a record producer.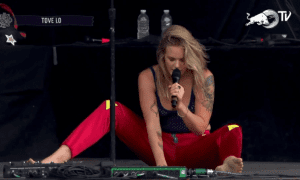 In 2015, Kehlani released her second mixtape "You Should Be Here," which Billboard called the "year's first great R&B album." In 2016 she was nominated for a Grammy award for Best Urban Contemporary Album.
In 2016, Kehlani became the focus of nasty social media attacks when people alleged that she was cheating on her then-boyfriend Kyrie Irving, NBA point guard for the Cleveland Cavaliers. That led to Kehlani attempting to commit suicide.
After recovering she became known for her posts on social media proclaiming her love for people no matter their gender identity. She resumed her work in music, collaborating with Eminem on a song and touring in Santa Ana and with Demi Lovato on an arena tour that is scheduled to finish on the end of this month.
Tove Lo is a Swedish singer and songwriter who Rolling Stone has called "Sweden's darkest pop export." Out magazine has called her "the world's most brutally honest pop star" and noted that she has been called "the world's saddest pop star." Those descriptions were a result of the release of "Out of Mind," a single that chronicles the heartbreak of a broken relationship.
Tove Lo's grew up in an affluent neighborhood near Stockholm in a family she has described as "pretty posh," a life the opposite of that of Kehlani.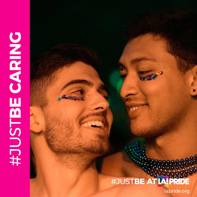 Early on she formed a rock band named Tremblebee and later worked as a songwriter, at which she became successful.
She was offered a recording deal in 2014 and became a hit with her debut album "Queen of the Clouds." Other popular albums have been "Lady Wood," released in October 2016 and "Blue Lips," released in November 2017.
Lo describes herself as bisexual and is known for her grunge look on stage, where she often is barefoot or wearing Dr. Marten boots, with a t-shirt and black shorts. "Tove Lo rocks a specific brand that veers slightly from most other women in pop-she paints herself as the hard-drinking, hard-drugging, DTF party girl, admitting the somewhat destructive nature of these preoccupations but celebrating them all the same," said Lindsey Rhodes in a story in the Village Voice.
The theme of this year's Pride is intended to emphasize it as an event where the personal experience matters.
"Everyone experiences Pride a little bit differently – and we wouldn't want it any other way because that's precisely what makes our community tick," says Shayne Thomas, CSW board member and marketing and communications lead. "#JustBe is a deeply personal invitation for self-expression that, we hope, will empower members of the LGBTQ+ community – as well as our very important straight allies – to embrace, embody, and express what Pride truly means to them in the rawest, most authentic ways possible."