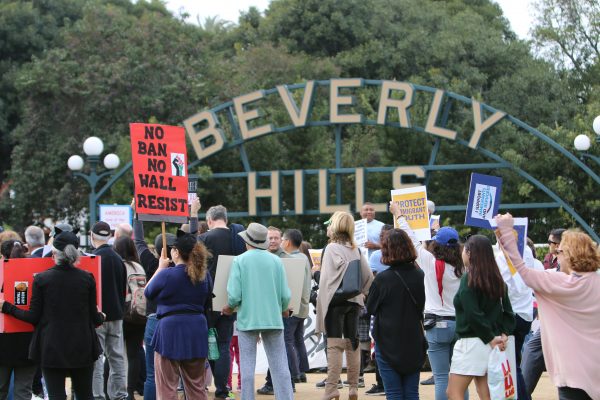 Police and protesters alike were preparing early today for President Donald Trump's first visit to the Los Angeles area since he took office, and afternoon commuters could be in for a rough drive depending on the presidential travels.
Trump's itinerary in the Southland has been kept mostly under wraps, but he was scheduled to arrive at Los Angeles International Airport at 3:30 p.m. in advance of a Republican National Committee fundraiser.
The location of the fundraiser wasn't officially released, but it is expected to be held at the home of Tampa Bay Buccaneers owner Ed Glazer in the exclusive Beverly Park neighborhood of Los Angeles, adjacent to Beverly Hills.
Aerial footage of Glazer's property Tuesday afternoon showed a large tent in back of the palatial home.
According to the White House, following Trump's arrival at LAX, he will be flown to the Santa Monica area, then taken via motorcade to the RNC fundraiser, which will include a 6:30 p.m. roundtable discussion with supporters.
At least one protest is being planned for 5 p.m. at Beverly Gardens Park, 9439 Santa Monica Blvd. Organizers said they are gathering to express "Southern California's opposition to the attacks on civil liberties launched by the Trump Administration."
Trump supporters, meanwhile, plan to gather at the same time just a few blocks away at the corner of Santa Monica and Wilshire boulevards.
Trump is expected to spend the night in downtown Los Angeles before heading to the St. Louis area on Wednesday. No information was officially released about his overnight accommodations, but Los Angeles police closed streets and were staging in the vicinity of the InterContinental Los Angeles Downtown Hotel near Wilshire Boulevard and Figueroa Street, and some streets in the area were closed.
According to the Los Angeles Police Department, several streets near the hotel will be closed until 1 p.m. Wednesday:
— Figueroa Street between Sixth and Eighth streets;
— Wilshire Boulevard between Flower Street and Beaudry Avenue; and
— Seventh Street between Flower and Bixel streets.
Details of the president's travels around the Southland were not released. Although exact routes are never released for security reasons, police in the past have released lists of areas that motorists should avoid, but no such list was released for Trump's visit.
"While the department is well-rehearsed at dealing with presidential visits, every administration brings with it unique challenges and new protocols, and unfortunately out of an abundance of caution many details about this visit are being withheld for security reasons," according to the LAPD. "The LAPD will be heavily deployed throughout the city to ensure the safe transport of the president and secure locations he will be visiting.
"The department will also be available to accommodate any residents who may feel a desire to exercise their First Amendment rights. We ask all of our residents to prepare for increased traffic with the potential of temporary street closures and delays."
Trump arrived at Marine Corps Air Station Miramar in San Diego County around 11:30 a.m., then flew by helicopter to Otay Mesa to view the 30-foot- tall border wall prototypes that have been erected there.
He hailed the prototypes and said he prefers versions that allow law enforcement to see through them into Mexico so they can monitor activity on the other side. He touted his proposed wall as critical to national security.
Trump is expected to make a speech to members of the military back at Air Station Miramar before flying to Los Angeles.
According to an invitation obtained by the Los Angeles Times, tickets for the RNC fundraiser at Glazer's home range from $35,000 just for the dinner up to $250,000 for the chance to meet Trump, attend the roundtable discussion and have a photo taken with him.
The fundraiser is being hosted by RNC Chairwoman Ronna McDaniel, national finance chairman Todd Ricketts and deputy national finance chairman Elliott Broidy, The Times reported.
The visit is Trump's first as president to California, a state with which his administration has clashed on issues of border security and immigration.
White House Press Secretary Sarah Sanders said Monday Trump has a base of support in the state.
"While California may not have — he may not have won that state, there is certainly a lot of support for this president, not just there but across the country," she said. "And he looks forward to being there and presenting a lot of the specific policies."
Senate President Pro Tem Kevin de Leon, D-Los Angeles, led a Monday afternoon rally in Beverly Hills that was attended by several West Hollywood residents and co-sponsored by Equality California in advance of Trump's visit. De Leon denounced the president's plans for a border wall and his immigration stances. De Leon, a candidate for U.S. Senate, offered to show Trump parts of California other than Bel Air or Beverly Hills.
"I'll take you to East L.A. and Boyle Heights," he said. "We'll go to Little Armenia and Koreatown. We'll go off to Chinatown, Filipinotown and Thai Town. In fact, I'll take you to my favorite taco stand in Lincoln Heights and see if you can handle the heat. Because I've got news for you, this is what America looks like and the future is bright."
Gov. Jerry Brown sent a letter to Trump Monday, telling him that "California thrives because we welcome immigrants and innovators from across the globe."
"You see, in California we are focusing on bridges, not walls," Brown wrote. "And that's more than just a figure of speech."
Brown invited Trump to visit the Central Valley and see bridges and viaducts being built for a proposed north-south high-speed rail line.
Trump lashed out at Brown during his stop in Otay Mesa.
"I think Governor Brown has done a very poor job running California," Trump said. "They have the highest taxes in the United States. The place is totally out of control.
"You have sanctuary cities where you have criminals living in the sanctuary cities and then the mayor of Oakland goes out and notifies when ICE (Immigration and Customs Enforcement) is going in to pick them up," he said. "And many of them were criminals with criminal records and very dangerous people … And no, I think the governor's doing a terrible job running the state of California."