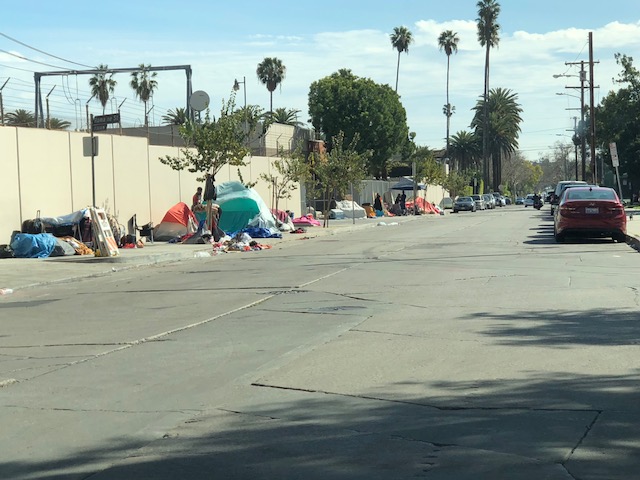 A relatively large number of residents turned out at tonight's Public Safety Commission meeting at Plummer Park to speak up about what they see as an increase in crime on West Hollywood's Eastside.
A number of residents cited the stabbing death of March 4 of Bernar Arlain, 32, on La Brea Avenue near Santa Monica Boulevard. Arlain, apparently homeless, was found dead at the bus stop in front of the upscale Dylan apartment building at 7111 Santa Monica Blvd. Others called out concerns about homeless people living in tents around  Poinsettia Park, which is bordered by Romaine Street, Willoughby Avenue and Poinsettia Place, just outside West Hollywood's city limits.
One local resident, Geoffrey Buck, who owns a home on Sierra Bonita Avenue near Romaine, complained about seeing homeless people prostituting themselves in the park. Buck said he saw people defecating in public and could see used syringes on the sidewalk, an indication of possible illegal drug use.
Stephanie Harker told Public Safety commissioners that a security guard at two private assisted living homes at Martel and Romaine  said he walked women to their cars to protect them from apparently homeless men who made sexual remarks to them.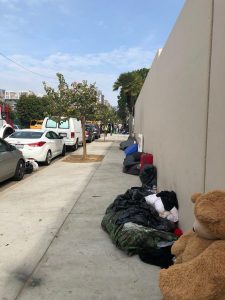 Lt. Edward Ramirez of the West Hollywood Sheriff's Station said he had joined a number of foot patrols on the Eastside in years past and that what he was hearing did not surprise him. Ramirez said the Sheriff's Station has stepped up its foot patrols on the Eastside, with teams deployed from noon to 6 p.m. and additional patrols from 8 p.m. to 4 a.m. thanks to funding from the city.
Ramirez said he has seen a significant impact in the past 10 or so days from the stepped up foot patrols and having officers park black and white squad cars in prominent areas. He said the Sheriff's Station also has begun arresting people to whom it previously would have given only written citations for committing misdemeanors such as possessing shopping cars and drug paraphernalia or alcohol. Since October, he said, Sheriff's deputies have arrested 75 people for whom they would only have issued citations in the past. Ramirez said that when officers arrest a homeless person for possession of an apparently stolen shopping cart, they make a video of the person's belongings and put them in storage so that the person can collect them later.
The concentration of homeless people in Poinsettia Park has alarmed some residents of the Avalon West Hollywood building, which is just north of it. One resident, Kris Nichols, reached out to WEHOville and to Mayor John Heilman in an email to say that the bicycle storage room in the building's parking garage had been broken in to and packages were being stolen from the apartments on the ground level. Nichols said that while walking home he had noticed an impromptu bicycle repair operation in the middle of a cluster of homeless people camping on the sidewalk. "My guess is these urban campers don't have permits to camp on the sidewalk or operate a bicycle 'repair facility'," he said.
"The net is, people don't feel safe here because of the blatant street level crime. "
Robert Oliver, a member of WeHo's Public Safety Commission, also is the field deputy for the area of L.A. City Councilmember Paul Koretz's district that includes Poinsettia Park. Oliver tol the Public Safety Commission that the Los Angeles Police Department is limited in what it can do about removing homeless people and their belongings from the sidewalks along the park under the terms of a settlement of a 2014 lawsuit brought against the Los Angeles Downtown Industrial District for removing unattended belongings of homeless people on L.A.'s Skid Row. Those belongings sometimes were taken while individuals left for short periods to go to a doctor's appointment, get a meal or use a restroom. The Los Angeles City Council last year approved a settlement that barred such seizures unless the property is obviously abandoned. In Poinsettia Park, abandoned items are removed only by the L.A. Sanitation Bureau. Even then, Oliver said, city workers must approach homeless people on at least three separate occasions to offer them access to services such as housing or mental health or addiction care before they can take their property, which requires 72 hour notice.
Capt. Sergio Aloma of the West Hollywood Sheriff's Station previously has cited that 2014 legal settlement mentioned by Oliver as the reason Sheriff's deputies must put in storage any property taken from a homeless person.
Oliver said Koretz's office has engaged the Sanitation Bureau to visit the park twice a month to clean it up. Such visits are limited to two days a month because the Sanitation Bureau also has to make similar visits to the other 14 L.A. City Council districts. Today Sanitation Bureau employees were at the park along L.A. City Park Rangers, the LAPD's Homeless Outreach and Pro-Active Engagement (HOPE) Team, officers from the LAPD's Wilshire Division and Oliver. Oliver said homeless people who sleep on the sidewalks can erect tents there so long as they leave at least 36 inches of sidewalk width open. They can't camp on the sidewalks before 9 p.m and  must remove their tents every morning by 6 a.m. except on days when there is rainfall or that are very cold.
Among those at Poinsettia today was LAPD Senior Lead Officer Inga Wecker, who said "It is a constant challenge to maintain the rights of all parties involved, and while we make every attempt to find housing options for vulnerable individuals, we must also maintain an acceptable quality of life for those in the neighborhood."
Virginia Gillick suggested to the Public Safety Commission that homeless people be allowed to pitch tents in the empty lot on the southwest corner of Santa Monica Boulevard at Crescent Heights where a Walgreens pharmacy was to have been built. Kristin Cook, West Hollywood's public safety director, said that would require a major policy shift for the city, which has strict rules barring tents in public places.
Residents acknowledged that homelessness is a countywide if not a statewide problem. "We need our laws changed," said Jeffrey Buck. "It's bigger than West Hollywood obviously. It's the whole state."
CORRECTIONS:  An earlier version of this story misspelled Geoffrey Buck's first name misstated his address, which is on Sierra Bonita Avenue.  The story also said that the security guard to whom Stephanie Harker referred worked at the Movietown Square. In fact he worked at two assisted living facilities nearby on Martel and Romaine. The story has been corrected to make those changes.