Some West Hollywood streets will be closed on Sunday to accommodate the 2018 Los Angeles Marathon.
The marathon's 26.2-mile course begins at Dodger Stadium and ends in the City of Santa Monica. Streets will be closed on Sunday from 3 a.m. to 2 p.m. along the route, which follows Sunset Boulevard from Havenhurst Drive heading west; then south on San Vicente Boulevard; west on Santa Monica Boulevard, and south on Doheny Drive. The route exits West Hollywood at Beverly Boulevard. An estimated 24,000 people from all 50 states and more than 63 countries will run through West Hollywood between miles 14 and 15 of the course.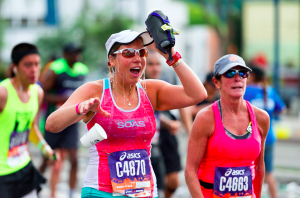 "As someone who has run the L.A. Marathon many times, I know first-hand the hard work that goes into preparing for and running in the marathon," said Mayor John Heilman. "Participating in this athletic adventure has brought marathoners to one of the most inspiring cities in the world. As they hit the halfway point in their 26.2-mile journey, they'll enter West Hollywood on the Sunset Strip, passing its legendary history-making music venues and conjuring up the playlists that make up our city's amazing musical history, from Janis Joplin and The Doors in the 1960s to Van Halen and Guns N' Roses in the 1980s. As they turn onto Santa Monica Boulevard, they will literally be getting their kicks on our little stretch of Route 66."
The L.A. Marathon route for 2018 will guide runners into the City of West Hollywood along Sunset Boulevard. From the Sunset Strip, runners will turn left (south) onto San Vicente Boulevard; then right (west) on Santa Monica Boulevard; then left (south) onto Doheny Drive, where they will enter the City of Beverly Hills.
The WeHo streets that will be closed from 3 a.m. to 2 p.m. Sunday are as follows:
–Sunset Boulevard between Havenhurst Drive (the route enters West Hollywood along Sunset Boulevard from the City of Los Angeles) and Doheny Drive.
–San Vicente Boulevard between Sunset Boulevard and Melrose Avenue.
–Santa Monica Boulevard between La Cienega Boulevard and Doheny Drive.
–Doheny Drive between Santa Monica Boulevard and Beverly Boulevard (the route exits West Hollywood along Doheny Drive to the City of Beverly Hills).
Parking will be prohibited along the L.A. Marathon route. "No Parking" signs will be posted prior to the event. Vehicles in violation will be ticketed and towed at the owner's expense.
L.A. Marathon spectators and community members who are searching for parking in West Hollywood during the L.A. Marathon are encouraged to visit the City of West Hollywood's website, where a directory of parking structures and municipal lots with hours of operation and rates is available online. Members of the public are encouraged to carpool and to use public transportation, taxis, or ridesharing options.
Additional information regarding the marathon, including details about road closures and alternate access routes, is available online. A complete route map also is available online. General inquiries may also be directed by email to info@lamarathon.com or by telephone to (213) 542-3000.
For more information specific to the City of West Hollywood regarding the L.A. Marathon or street closures, please contact the city's Event Services Division at (323) 848-6385. The City of West Hollywood Special Event hotline is (323) 848-6503. For people who are Deaf or hard of hearing, please call TTY (323) 848-6496.
Sheri A. Lunn