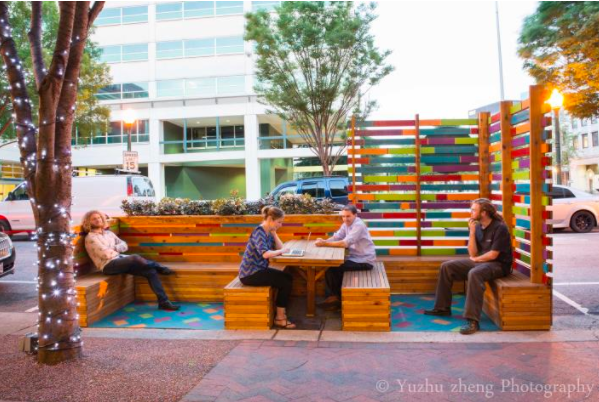 Streetside parks may be popping up in West Hollywood's commercial districts with the launch of the city's "parklet" program.
The program is an invitation to local businesses and community organizations to suggest areas where from one to three parking spaces could be converted into parklets. A parklet is sort of an extension of the sidewalk by repurposing on-street parking spaces to create publicly accessible gathering spaces. Parklets can include seating, greenery and bike racks, among other features. The spaces are meant to support commercial districts, contribute to the vibrancy of neighborhoods and provide additional open areas.
The city is accepting applications for such parklets through April 23. Winning applications will receive a grant of $25,000. The city will approve seven parklets, with two on the Eastside, two on the Sunset Strip and three parklets in other areas.
The parklets can only be created on streets with posted speed limits of 35 mph or less. A parklet can extend onto a sidewalk if a four-foot unobstructed walkway is maintained for pedestrians. For the time being, no parklets will be permitted on Fountain Avenue. Parklets also aren't permitted on residential streets.
San Francisco has a well-known "pavement to parks" program and has created nearly 50 parklets since it launched in 2010. The concept is popular worldwide, as illustrated in the photo below, which shows parklets its "Pavement to Parks" program has helped create. Similar programs are in place in Long Beach and Los Angeles.
Those who wish to apply to create a parklet can find the information needed on the city's website.