Round Hole Square Peg will have its closing night reception on St. Patrick's Day (Saturday) from 6 to 9 p.m. at the Long Hall Gallery, in the center of West Hollywood's Plummer Park.
Round Hole Square Peg is a juried, international photography competition. The exhibit, currently open from 1 to 5 p.m. on Friday and Saturday, features photographs by 50 artists. They were chosen by a group of jurors including Laura Aguilar, Paul Bridgewater, Zackary Drucker, Bert Green, Robert Summers and Phil Tarley who evaluated over 500 images from nine countries.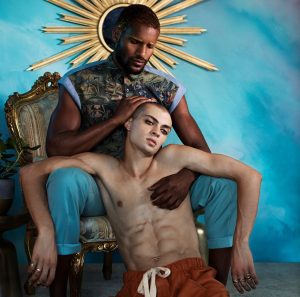 An expanded "Wall of Fame" of top LGBTQ photographic artists, curated by Tarley, includes 69 photographs by 59 artists.
"Queer artists have a perspective to contribute to society that is wholly our own," says Tarley, founder of Round Hole Square Peg. "We have developed a unique view of self-worth, self-image, beauty, and love, and we want to share it with the world. In 2018, Dark Trumpian clouds are forming, threatening to roll back hard-won civil rights. Having a strong presence in front of a large audience helps the queer community defy and resist negative stereotypes."
Photo art sales will be handled by artist-television-drag personality Sham Ibrahim. Mixmaster DJ Paul V. will be spinning for the night. Refreshments will be served. Admission is free. The closing night will include a cycling display from one of the riders from AIDS/LifeCycle, dressed in his riding St Patrick's Day greens. Painter-photographer Miguel Angel Reyes — whose work hangs in the exhibition – invites everyone to dress up or dress down in St. Paddy greens. Reyes will photograph viewers with Round Hole's Leprechaun man-prop, Jon Vaz Gar.
The exhibit is Sponsored by the City of West Hollywood WeHo Arts Program, the Tom of Finland Foundation, West Hollywood Lifestyle Magazine and Fabrik magazine/ A portion of all closing night sales will benefit AIDS/LifeCycle which helps fund medical care, testing and AIDS prevention services at the Los Angeles LGBT Center.